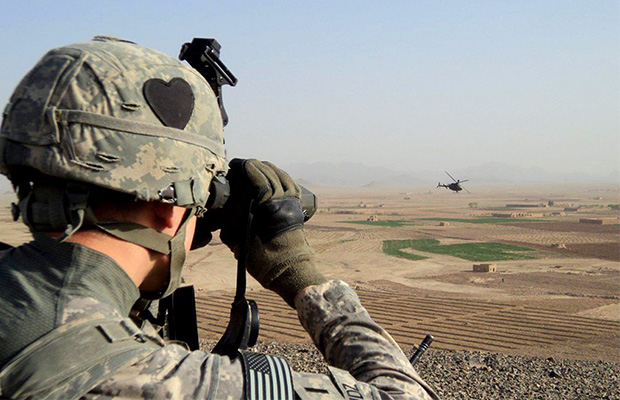 Joint Opinions
Veterans are Winning the Legalization War
In recent months, America has seen what a potent force veterans can be when it comes to legalizing cannabis.
On May 19, The House of Representatives passed Representative Earl Blumenaur's amendment to the fiscal year 2017 Military Construction budget, by a 233-189 vote, which allows for doctors at the Veteran's Affairs (VA) to recommend medical cannabis to veterans in states with medical cannabis programs. The amendment passed thanks to the support of 57 Republicans who joined with Rep. Blumenaur and other Democrats to pass this bipartisan legislation, protecting veterans' safe access to medical cannabis. If this version is reconciled with the version passed by the Senate last month, beginning in 2017, veterans will not only be able to talk with their doctors about using cannabis without fear of losing VA benefits, they can get their recommendations from the VA too. Rep. Blumenaur added that, "Today's vote is a win for these men and women who have done so much for us and deserve equal treatment in being able to consult with, and seek a recommendation from, their personal VA physician about medical marijuana."
Eric Gudz is on Students for Sensible Drug Policy's Board of Directors and is a veteran of the 101st Airborne Division, where his exemplary service as an Intelligence Operations Officer in Afghanistan earned him the Bronze Service Star. Eric's unit "suffered more casualties than any unit in the United States armed forces since the Vietnam War." After returning home, says Eric, he "had to come to terms with the physical and psychological horrors war bestowed on me." He previously told his story to the city of Davis, California, to help fight a proposed ban on cannabis there and last month he went to Washington, D.C. to lobby Congress for Representative Blumenaur's amendment. "I am one of many wounded warriors who faced the nearly impossible journey of coming to terms with that war [and] without the benefits of medical cannabis, I would not be standing here before you all today."
Eric praised the recent House vote as "a historic step forward for veterans seeking a completely reasonable alternative as part of their treatment plan. For the first time in decades, our elected officials at the federal level are becoming attuned to the realities of the war on drugs, and they are opening their hearts to thousands of veterans who have responsibly incorporated medical cannabis into their lives."
Michael Krawitz, the executive director of Veterans for Medical Cannabis Access (VMCA) and a disabled United States Air Force veteran, has been working since 2008 to get the VA to approve veteran access to medical cannabis. Michael expects that "the current Senate and House bills will be reconciled and passed by both chambers to finally become law." Hopefully, "this freedom will allow VA doctors the ability to access the growing library of AMA accredited CME course materials on cannabis therapeutics." Though, he adds, "we don't expect a flood of cannabis recommendations from VA doctors but we will see where this rabbit hole leads."
In the midst of Congress' historic effort to allow veterans access to cannabis through the VA, a different federal agency has moved to allow research into veteran's use of cannabis for PTSD. The DEA recently approved a study being conducted by Dr. Sue Sisley and a team of researchers that will look at using four different ratios of THC and CBD to treat PTSD. "We have been working towards approval since we opened the Investigational New Drug Application (IND) with the FDA in 2010," says Amy Emerson, Executive Director/Director of Clinical Research for the MAPS Public Benefit Corporation. "We are thrilled to see this study overcome the hurdles of approval so we can begin gathering the data."
Jesse "The Body" Ventura, a veteran and the former Governor of Minnesota, told Cannabis Now he was "very interested to see the results of Dr. Sisley's study." Ventura added that "as far as medical marijuana is concerned, the studies are in, and the effectiveness of cannabis speaks for itself." Ventura has a book being released later this year outlining his views on cannabis legalization.
Against this backdrop of successes for veterans suffering from chronic pain, PTSD, and a host of other ailments, there has been some resistance, primarily with states adding PTSD to their medical cannabis programs. Illinois is trying again this year to add PTSD to their list of approved conditions after two previous attempts proved unsuccessful. Last November, Colorado's Board of Health voted 6-2 against adding PTSD as an approved condition; thankfully, since Colorado is a recreational state, people suffering from PTSD can utilize the recreational market for their medical needs. An effort is underway once again in Florida to create a medical cannabis program, which includes PTSD as a condition, but opponents are already raising millions of dollars to fight it. There also is hope that Rhode Island may add PTSD as a qualifying condition for their medical program this year. It could be that veterans prove to be the motivating force needed to get states to act on legalization, after all, it was a "gay, hippie Vietnam veteran" named Dennis Peron who led the charge for legalization of cannabis in California in the 1990s by giving free medicine to AIDS patients and co-authoring Prop 215.
Hopefully Congress reconciles the two versions of the budget and the VA is able to begin recommending medical marijuana in fiscal year 2017. Until then, an estimated 22 veterans will commit suicide every day; 22 a day is 22 too many. On this Memorial Day, remember the fallen and give thanks to our veterans who made it home, many of whom still struggle with the horrors of war.