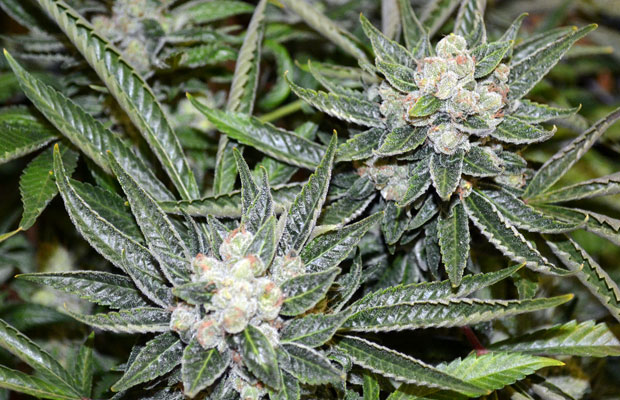 Grow
Strain Review: Sour Diesel
Our intrepid ganja chronnoisseur, Dragonfly, travels the world in search of the best cannabis and evaluates strains ranging from the popular and plentiful to the rare and exotic. She samples each strain in joints, glass bongs, vaporizers and bubblers, whenever available, taking careful notes of the smell, taste, and nuanced effects of each one. 
One of the most popular strains in the country, Sour Diesel packs quite a punch. In all my years of cannabis chronnoisseurship, I don't believe I've ever met anyone who didn't have a strong affinity for this strain.
More directly, this mostly-sativa variety was born to Chem '91 and Massachusetts Super Skunk. But its lineage is about as infamous as the strain itself.
The parents of Sour Diesel came from a mystery strain that a fellow named Chem Dawg purchased at a 1991 Grateful Dead show in Colorado and later had shipped out to the East Coast. Those nugs contained a sweet surprise: Seeds. 13 of them. Some of them were grown out and unintentionally fathered by a Chem Dawg male or hermaphrodite. Several of those seeds were subsequently taken to Massachusetts where they were sprouted. Seeds from that batch were then given to a NYC grower who re-named the strain Diesel. A few years later, a hermaphroditic Massachusetts Super Skunk pollinated the room – causing Diesel to sprout seeds – and Sour Diesel, as well as her sister, OG Kush, were born.
The smell: Sour Diesel's name is no accident. This strain smells uncannily like diesel fuel. It is pungent, dank, and quite devastatingly delicious.
The dry hit: Pre-flame, not only will you inhale the powerful funk of straight-up diesel fuel, you'll also be titilated with a faint lemony pine that gently adds to its compexity.
The flavor: Sour Diesel tastes just the way it smells: classic, funky fuel. Its much sought-after flavor is one that many growers breed for, and it makes Sour Diesel famoulsy easy to sniff out of a line-up. Upon smell and taste, no one who knows Sour Diesel can be fooled into believing a strain is Sour Diesel if it is not.
The high: Sour Diesel is so popular because the high really is quite incredible. Being sativa-dominant, it imbibes your body with the uplifting, motivating energy. It's a definite mood-enhancer and depression destroyer. Being in a good mood is effortless and natural with a little Sour D in your system.
It is a very reliably excellent choice for brainstorming ideas and stimulating creativity. When I have writer's block, I request Sour Diesel and get back to work.
The word: Its stunning popularity is not by accident. Sour Diesel truly is one of the most fascinating strains in cannabis. It makes laughter sweeter; it makes good food taste to-die-for; it makes the comical much more comedic; it simply makes fun things that much more fun. The most ordinary of nights out quickly becomes hilariously memorable when Sour Diesel is on the scene. Worthy of its fame, Sour Diesel remains one of the greatest strains on the planet.