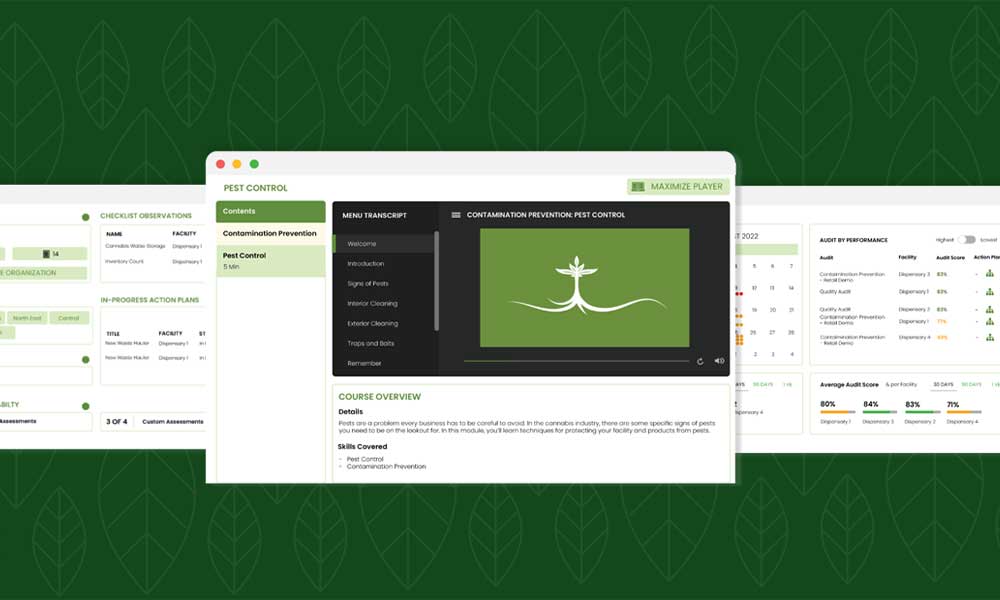 Sponsored
Rootwurks Offers Cannabis Compliance at Your Fingertips
Online learning portal Rootwurks offers a host of training and cannabis compliance tools to help you plan, prevent and protect your business.
The legal cannabis industry is expanding at a very fast pace. Subsequently, it can be difficult for businesses to keep up with the rules and regulations surrounding cannabis compliance. By combining educational resources and compliance management solutions, online learning hub Rootwurks has developed an educational platform to keep cannabis companies of all kinds on track.
Based in Austin, Rootwurks cultivates a culture of workplace safety within your operation to protect your employees, customers and bottom line. The Rootwurks integrated solution of content, regulatory rigor, technology and practical experience helps organizations enrich the knowledge of their workforce while simultaneously ensuring operational compliance.
Rootwurks was founded by Chase Eastman, a former executive at Alchemy Systems, a leader in food and workplace safety training for food manufacturers. Eastman noticed strong safety and training parallels between the food production sector and the cannabis market, as the risks and stakes can be very high in both industries.
In today's ever-changing market, compliance and education are essential for cannabis companies to be successful. Rootwurks understands that compliance and education are inseparably related and necessary to achieve the same fundamental objective of any cannabis business: to satisfy the sector's regulatory requirements and foster an environment of workplace safety.
The Rootwurks LXP Approach
Rootwurks learning modules are tailored for use in the workplace. Employees may retain and integrate the information into the working culture, including cannabis training, dispensary training or dispensary workplace safety.
The brand's flagship product is the Rootwurks Learning Experience Platform (LXP). The LXP is a digital education and compliance tool that combines cannabis safety and training education modules with a digital platform to track and assess the compliance needs (and adherence) of cannabis companies.
The Rootwurks LXP was developed using founder Eastman's food manufacturing training and safety experience, along with the cannabis law and regulation know-how of Rootwurks' partners at Vicente Sederberg LLP, one of the country's leading cannabis law firms.
The LXP is an excellent example of what can happen when you combine industry-leading expertise in the very rigorous world of food manufacturing compliance with more than a decade of real-world experience at the forefront of cannabis law.
The result is a platform that doesn't focus solely on cannabis education or purely hone in on a company's operational compliance needs. It's a comprehensive solution.
Cannabis Training That Works for You
With Rootwurks, cannabis expertise is at your fingertips. The team has developed a system of resources offering a world of insights into one of the country's most complex industries. Educational tools are offered in a variety of formats, appealing to all learning styles. A few examples include:
Webinars that give you access live and on-demand insights from some of the top experts in the cannabis industry.
Blogs provide free, in-depth information covering the latest news and events in the cannabis industry.
eBooks and guides are free to download and illuminate the intricacies of the cannabis industry.
Rootwurks learning modules are designed to be used in the workplace, so your employees can retain the information and seamlessly integrate what they've learned into the flow of work.
Checklists
Created by cannabis law and compliance experts, Rootwurks' checklists can easily be modified by employees to fit smaller or larger tasks and walk front-line employees through their cannabis compliance tasks.
Assessments
The assessments module verifies and confirms employee compliance performance through a range of specific tasks. The module offers benchmarks for employees to track their performance and growth and allows for creating and assigning corrective plans for compliance and training.
Learning Modules
Designed to provide cannabis workers with training that is reinforced "in the flow of work" to boost retention (and make it feel less like work), the learning modules include short, five-minute "micromodules" and longer, in-depth "awareness modules."
See How Rootwurks Can Help Your Business
Consumers, researchers, dreamers and workers from many walks of life make up the diverse, vibrant world of legal cannabis. Your company can rely on the Rootwurks LXP to assist in broadening your employee's expertise as this ecosystem develops to get a stronger grasp on the shifting sands of cannabis.
Rootwurks also has an on-demand help center to offer assistance and guidance for LXP users and their teams.
What are you waiting for? Schedule your Rootwurks demo now and ensure your cannabis business remains compliant.