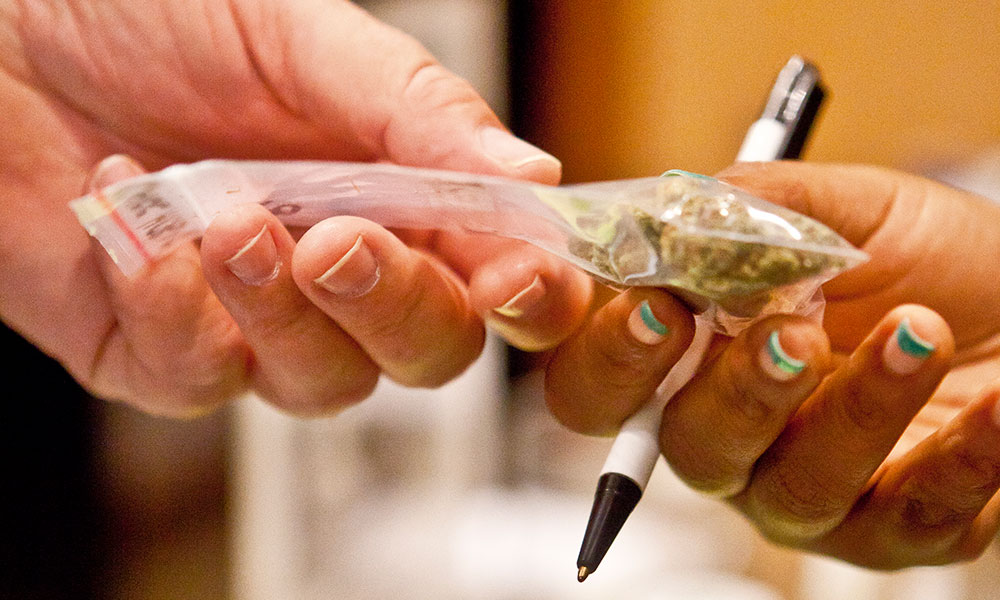 Politics
Recreational Cannabis Sales Begin in Massachusetts
Massachusetts' long journey towards adult-use cannabis sales ends today.
A decade after voting to decriminalize marijuana in 2008, today Massachusetts is commencing legal sales of recreational marijuana to all adults over the age of 21.
Over the last two years since recreational cannabis was passed in 2016, the state's Cannabis Control Commission worked to make this moment a reality. But after some unexpected delays drawing the ire of activists quick to try and associate the problems with anti-pot governor Charlie Baker, the day has finally arrived for Massachusetts adults who want to use marijuana responsibly.
On Nov. 16, the commission approved the licenses for retail stores. In a statement, it noted that setting Tuesday as the first official day of sales means that approved retailers have time to coordinate opening day logistics with their host community, local law enforcement, colleagues and other essential stakeholders before sales begin.
"This signal to open retail marijuana establishments marks a major milestone for voters who approved legal, adult-use cannabis in our state," Commission Chairman Steven J. Hoffman said. "To get here, licensees underwent thorough background checks, passed multiple inspections and had their products tested, all to ensure public health and safety as this new industry gets up and running. As patrons look forward to visiting Massachusetts stores, we hope they will do their part by first familiarizing themselves with the law and understanding what is required of responsible consumers."
Northampton Mayor David Narkewicz takes the podium. He will be the first person to purchase recreational marijuana at NETA tomorrow. Calls it a "historic moment" #WBZ pic.twitter.com/41UiSyzEsL

— Louisa Moller (@LouisaMoller) November 19, 2018
After decades of local activists laying the groundwork with nonbinding policy questions across the state, The Marijuana Policy Project came in to lead the legalization effort, which succeeded with voters approving Question 4 in 2016. Massachusetts's version of legal marijuana will see products sold subject to a 6.25 percent state sales tax and a 10.75 percent state excise tax, and municipal officials have the option of levying additional local taxes of up to 3 percent.
In a statement on Monday, the MPP noted that it estimates adult marijuana sales will generate more than $200 million for the state and up to $3 million for local governments in the first two years alone, based on a June study by the state's Department of Public Health.
"Marijuana prohibition is officially coming to an end in the Bay State," said Marijuana Policy Project Deputy Director Matthew Schweich, who oversaw the successful Question 4 campaign in 2016. "It will not be missed. Voters in Massachusetts wanted a more sensible policy, new tax revenue and safer communities, and that is what they are going to get."
MPP also noted that marijuana possession has been legal for adults since Question 4 took effect on Dec. 15, 2016, a month after being approved by 53.7 percent of voters. The legislation to implement the initiative was signed into law by Gov. Charlie Baker on July 28, 2017.
"Implementation took longer than expected, but the system is now up and running, and it appears to be on the right track," Schweich said.
"We applaud the many state and local officials who have taken part in the historic transition from prohibition to a regulated model," he continued. "This is a living system that will grow and evolve over time, similarly to what we've seen with alcohol, and it can set an example for other states in the region and around the country. Massachusetts is firmly ahead of the curve on cannabis."
Longtime NORML affiliate MassCann has led the effort around the Boston Freedom Rally for 29 years and, over that time, filed numerous ballot questions around the state showing how many Massachusetts voters actually supported marijuana reform. NORML Executive Director Erik Altieri gave us his take on the law, and the organization's grassroots efforts locally.
"Even though the implementation of adult-use marijuana retail outlets took longer than many would have liked, it is absolutely gratifying to see the work that countless activists have put in over the decades finally come to true fruition," Altieri told Cannabis Now. "Massachusetts was the first state to implement anti-marijuana laws in the early 1900s and to see it join the ranks of states that have fully repealed their prohibition on cannabis is vindicating and just another sign that the dark era of reefer madness and incarceration is finally coming to an end."
TELL US, are you planning on purchasing cannabis in Massachusetts?