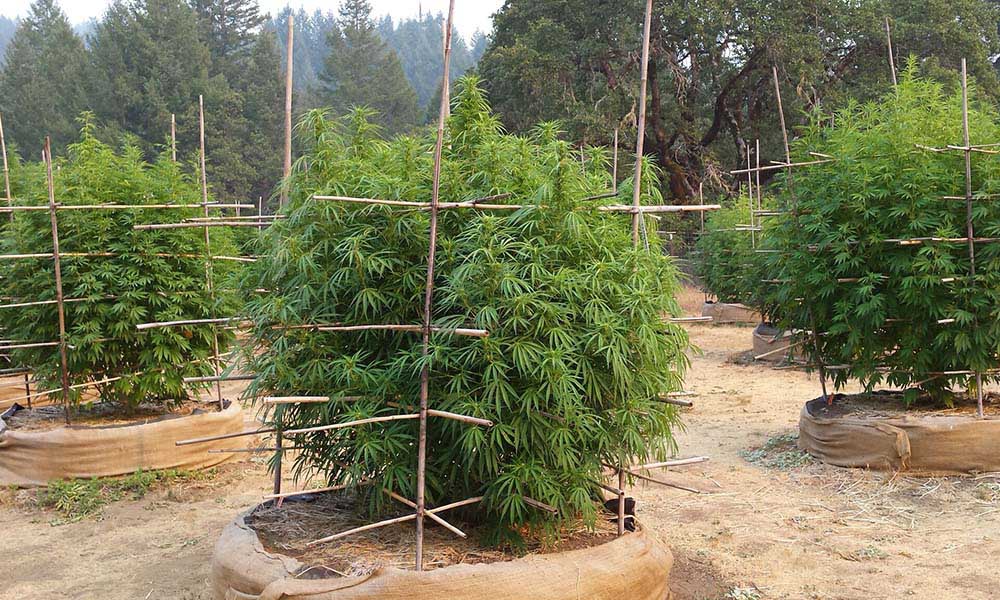 Joint Opinions
Growing Cannabis in Mendocino: Why Are We Here?
Moving to rural Mendocino from San Francisco to throw raves and grow cannabis in The Emerald Triangle came with an unwavering connection to the land.
It's been over 18 years since I left the City of San Francisco and moved to Mendocino County in the heart of the Emerald Triangle. At first, I was merely in quest of a venue to host 24-hour dance parties under the sun, moon and stars. I had been producing small "raves" in the Bay Area for a few years and simply needed a bigger dance floor in a place where we didn't need to pack up after just a few hours. The vision was of a mini-festival in the hills of NorCal. My passion was creating the altars and sacred spaces at these psychedelic electronic gatherings.
My friend and co-producer in The City, DJ Goz, said he knew "this guy who grows great weed and just bought a place up in Mendo on Hwy 101 where he wants to put on parties." Perfect. We set out on the three-hour pilgrimage North immediately. In a narrow valley right along the highway, we discovered a super funky house at a dilapidated RV Resort. A branch of Rattlesnake Creek ran through it and tall trees towered over weeds and derelict old trailers left by the previous owner. Two large and grungy guys met us when we arrived, both of them retired Hells Angels. My friends quickly rolled up the windows and were ready to turn around and run, but I persisted. I could see the potential in the place.
About 30 of our clan from The City followed us that afternoon for a "sampler" party to see if the neighbors complained. By dusk we had carved out a section of open area between the creek and the trailers. We set up a small table for the DJ and hung a few day-glo banners in the trees. Some hippies from Austin, Texas arrived in an old school bus and that became the projection screen for visuals. I made a small Shiva altar on the DJ table and we were ready to party.
The owner of the land finally arrived just before the music started, looking pretty straight compared to the rest of us in our psychedelic lycra SpaceTribe rave clothes. Tim Blake had short hair and wore a white polo shirt — who was this guy? In chatting I discovered he was originally from Santa Cruz and had been in the pot biz for years (in those days, nobody called it "cannabis"). He rolled up a joint of something he'd grown called "the clone" and I was blown away. It was August of 1999, and that was some of the best weed I had ever smoked. I could tell this guy had something special going on.
The rest is history. Obviously the neighbors didn't complain too much about the pounding techno beats that lasted well into the next day. So we did it again a few months later, for a lot more people. It was the first of many outrageous gatherings, including the birthplace of The Emerald Cup, at what was very soon thereafter to be named "AREA 101." I found myself spending more and more time in Mendo until I finally bit the bud, rented out my place in San Francisco and moved up north. Swami followed shortly thereafter, back from India. We both felt "the call." Of course, cannabis had something to do with it.
As destiny would have it, a piece of heaven was presented to us and we were fortunate enough to purchase our ranch in the hills of northern Mendocino County in 2003. Far from any roads, this was the sanctuary we had envisioned for years. We felt, and continue to feel, blessed to be her stewards. Friends from the City questioned how a city girl such as I am could handle living so far from the "real world." Yet these hills are special. Both remote and civilized in the best way. The people already living here were of our tribe and cannabis was a way of life.
Over the years, I have become attuned to the land. Morning walks with my dog are my meditation. Watching the flowers, meadows and woodlands transform from season to season is captivating. Each large tree has a distinct personality and when one of them falls in a big storm it is a loss to the forest, yet a gain for the land — what excellent compost for the next generations. The lake and the creeks rise and fall, the meadows turn green and golden and then green again and the cannabis plants sprout and mature into lovely young ladies. What spectacular entertainment!
In recent times, while we have been undergoing the trials and tribulations of coming into legality and creating a cannabis brand, those morning walks have become even more precious. When we first moved here, there was absolutely no connection with the outside world. It was more difficult to find us here than in India! While we still have no cell phone service, there is a satellite dish now on the property. The world has landed in our laps. That means more and more time working and less time being with nature around me.
One main reason to move here was to get off the grid. A solar power system was one of the first things we installed and saying goodbye to PG&E felt fantastic. The land already had a beautiful fresh spring, which Swami developed into a better system to deliver delicious water to the cabin. Prolific forests surrounding us provide years of wood for the winter fires. Other than the propane to fuel the cooking stove and water heater, and occasional gasoline when we need generator back-up, we try to use as little petroleum as possible. A grey water system has helped us save many gallons of precious water during the drought years and dry summer months.
However, as we become legal cannabis cultivators, we need to be permitted by just about every agency out there. And because it is cannabis, you can trust them to scrupulously inspect us and throw in a few extra strict rules and regulations. For example, the Water Board has required that we register all our water use now… and they charge us for that. We pay $2,500 a year just for our domestic water, which is more than I ever paid in San Francisco. What happened here? When will they charge us for using sunshine and fresh air?
All that aside, I still wouldn't live anywhere else on the planet. This is our appellation, we are of this terroir now, our roots grow deeper everyday. The "Big Guys" can try their darnedest to push us small farmers out of these hills, but this is our home. The tall trees, golden meadows, blue skies and all the critters of the forest are part of our DNA. Just like our cannabis sisters in the garden, this is our land and we aren't moving. We love it and that is why we are here.
TELL US, have you ever had a garden?