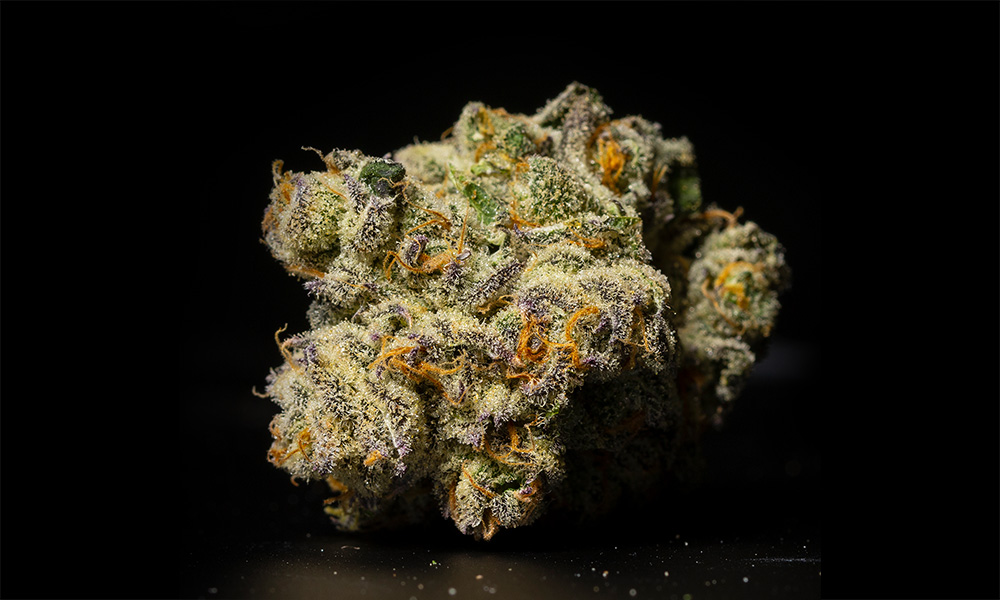 Strains
The 5 Most Hype Strains for 420 This Year
With 420 almost upon us, it's time to take a look at the strains we're most excited about right now.
This hallowed time comes but once a year: The time to determine the most hype strains for 420. So, today, we bring you a collection of cannabis strains from, or near, the pinnacle of the North American cannabis scene.
Each member on this list are coveted strains worthy of any true connoisseur collection, so they likely don't last long on dispensary shelves. If you see these strains around, snatch them up while you can. This collection of strains also highlights some of the most cutting-edge phenotypes currently in the game and the amazing flavors that have people talking so much about them.
Banana Fig — Fig Farms
Banana Fig is a high-end cannabis strain that is also relatively accessible on the West Coast right now, given that its cultivators at Fig Farms have ensured that the strain has found its way into bigger retailers. The Banana Fig is certainly one of Fig Farms' family jewels. It pairs their Purple Fig with Banana Split and has won plenty of accolades, including a Cannabis Cup in ultra-competitive Northern California region, where it had to go up against plenty of strains from some of the best breeders on the planet. The team at Fig Farms says when it's at its best, expect notes of banana, bubblegum and lemon-lime when you open the jar.
WiFi Mints — Seed Junky
WiFi Mints from Seed Junky is seemingly the star of the new generation of Animal Mints crosses making waves in the cannabis connoisseur scene and standing out as one of the most hype strains for 420. Usually, when you get a game-changing strain like Animal Mints, one of its kids will garner a bit more hype than the rest. This can be seen in other circumstances with Girl Scout Cookies and Gelato, or Zkittlez and Rozé. In the case of Animal Mints, it's definitely the WiFi Mints. Helping add even more wind to the sails of WiFi Mints, it now finds itself in the collection of one of the finest cultivators and breeders on the planet, The Village. Seed Junky even said that in The Village's hands, WiFi Mints is being grown to its full potential. That is some high praise. We were lucky enough to chat with The Village about his experiences growing the WiFi Mints recently, in a conversation that will be published in an upcoming issue of Cannabis Now.
Baklava — Alien Labs
Alien Labs crushes it super hard, and anything that makes it to the market from these California cultivators is easy to consider the true top-shelf in the available adult-use market. Sure, someone out there might have a light or two in his garage pushing out something a pinch gassier, but when it comes to the pot actually available to the masses, Alien Labs is king. With Baklava, they paired the always-popular Kosher Kush from DNA Genetics with their strain-of-the-year phenotype of Gelato #41, so good it made an 8-year-old strain all the rage again. Baklava is a heavy hitter in a lineup of strains where each one could likely be the best pot in the room in any given situation. Expect it to smell like some banging OG Kush, but smoke like a Gelato.
Gelonade — Connected Cannabis Co.
Gelonade first caught our eye last summer when we visited the Connected Farm in Northern California. As they took us on a tour through the 30-plus Gelato #41 crosses they popped, this pairing of Gelato #41 and the uber-popular Lemon Tree stood out. Lemon Tree is so soaked with limonene terpenes that's it's almost a novelty. What is really cool about pairing it with the Gelato #41 was if you found the smoking a basket of lemons wasn't your thing, the flavor of the Gelonade is a lot more complex than the Lemon Tree.
Str8papaya — Str8organics
The Papaya strain being produced by cultivators Str8organics is arguably the best version of the strain ever and has been included as an ingredient in some fantastic concentrates as well. When you open the jar, you get hit with this combination of melon and tang that carries over into however you plan on smoking it. It's so good, everyone who won an Emerald Cup last year has used it to make some hash in recent months. That's like every Iron Chef wanting to use the same ingredient.
TELL US, what strains are you smoking this 420? What do you think are the most hype strains for 420 this year?