Top 100 Cannabis Dispensaries
From California to the New York island, these are the best places to find America's favorite flower.
The 2016 general election was a watershed moment for cannabis decriminalization. Not only do more Americans have access to cannabis than any time since prohibition began, major tourism hotspots like Hollywood, California and Las Vegas, Nevada just added recreational cannabis to their list of attractions. So even if your home state hasn't yet joined the growing list of decriminalized states, you can still take a weekend trip to where the grass is greener.
And while the majority of people in the United States believe cannabis should be decriminalized, in the eyes of the Federal Government, cannabis remains an extremely dangerous and illegal substance. Cannabis providers, whether they provide for medical marijuana patients or adults over the age of 21, all take calculated risks to bring patients and recreational enthusiasts the comforts and pleasures of this remarkable flower.
To honor these pro-pot warriors, we have compiled a list of the 100 top cannabis providers across the nation. These brick-and-mortar locations offer essential services to citizens across the country, and for that we salute them.
LEGALIZED IT!
Marijuana providers in seven stellar states (and the District of Columbia) have legalized the possession of marijuana for adults. While not all these states have had enough time to establish locations for adults to purchase cannabis, they soon will. These dispensaries are the top in America, standing behind them are influential pioneers, titans, artists and leaders.
California
Studio City, Los Angeles, California
photo courtesy of Buds and Roses
budsandrosesla.com
California has no shortage of excellent cannabis dispensaries to choose from, and the glitzy but gritty City of Angels is home to more than its fair share. But with a smorgasbord of veganic cannabis strains, concentrates, edibles, tinctures and more, this West Coast cannabis landmark is a cut above the rest. Add to that a knowledgeable, attentive staff and VIP services like valet parking free of charge, and you've got the perfect medicinal provider for a trip to Tinsletown.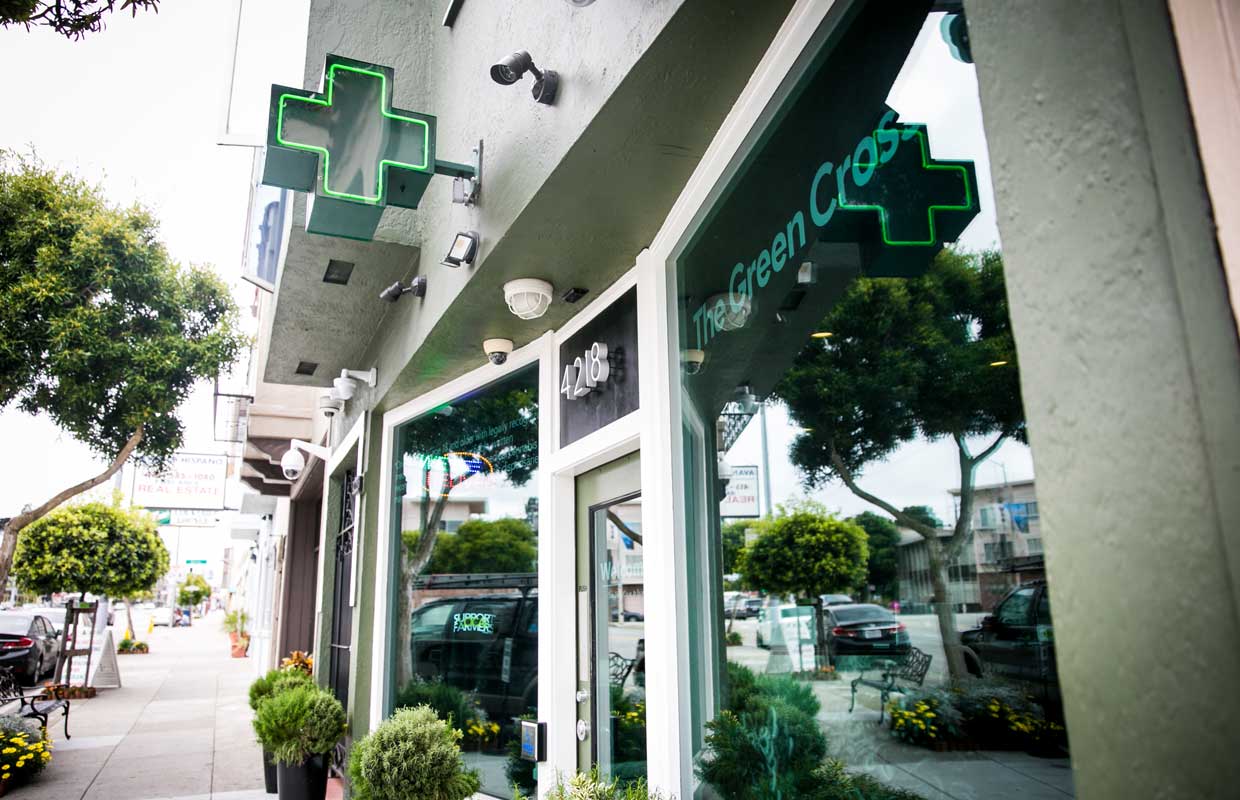 San Francisco, California
photo courtesy of The Green Cross
thegreencross.org
The Golden State is home to some of the finest cannabis on the planet, and the passionately persnickety buyers at the Green Cross have a knack for finding it. Having grown from a city-wide, delivery-only service to a first-class brick and mortar location, the Green Cross has a deep understanding of their patients' needs and preferences. This is reflected in their compassionate pricing and the near-constant availability of special discounts on quality medicine. San Francisco has a lot of bright stars when it comes to MMJ dispensaries, but the Green Cross is one of the brightest.
Colorado
Denver, Colorado
photo courtesy of The Clinic
thecliniccolorado.com
With four locations in Denver, all offering top shelf cannabis for both medical and recreational use, The Clinic is a high point in the already elevated Mile-High City experience. The Clinic's meticulous quality control and dogged pursuit of fresh genetics keeps the menu up to even the most discerning standards. In a city with many options, any location of The Clinic is well worth a visit.
Nevada
Las Vegas, Nevada
photo Dabsel Adams
thegrovenv.com
Las Vegas, Nevada, is a global tourist magnet, and taking a quick weekend trip to Sin City — if only once —  is a cherished American tradition. And cannabis patients who find themselves without medicine (and not wanting to rely on the still burgeoning recreational market) can rely on The Grove, thanks to Nevada's reciprocity with out-of-state medical cannabis recommendations. The Grove grows all its own medicine, and with a location right next to McCarran International Airport and the famous Strip, it could be your first stop on your next Vegas vacation.
Maine
Bath, Brewer, Gardinier & Portland, Maine
photo courtesy of Wellness Connection
mainewellness.org
Wellness Connection has four locations throughout southern Maine, all offering an impressively broad array of cannabis products grown and produced in the Pine Tree State. Their menu boasts contemporary strain celebrities like Gorilla Glue #4 and Tangie, as well as cannabis classics like Sour Diesel, Strawberry Cough and Romulan. Their online menu also offers instructive video strain profiles, signaling a clear commitment to providing easily accessible medicine and information to their patients.
Massachusetts
Brookline & Northampton, Massachusetts
photo courtesy of New England Treatment Access
netacare.org
With two locations on roughly opposite ends of the state, NETA has clear aspirations of being a statewide provider of quality cannabis care. Their supply chain is completely vertically integrated, with cannabis professionals at the NETA cultivation and processing facility supervising and facilitating every step, from seed to store. So if you're looking for bud near Beantown, hit up the Brookline location.
Washington, D.C.
Washington D.C.
photo courtesy Capital City Care
capitalcitycare.com
As the only dispensary in D.C. authorized to cultivate its own cannabis, Capital City Care provides a truly unique level of product quality control to area patients. Given the relatively compassionate pricing of their menu, some of their flowers have surprisingly high bag appeal. Definitely worth a visit if you're in the nation's capital.
Oregon
Portland, Oregon
photo Lincoln Barbour
farmapdx.com
Farma coordinates with cannabis scientists to deliver reliable in-house analytics for all its products, which range from top-shelf flowers and concentrates to medicated edibles and specialty items like capsulized RSO. Boasting an extensive portfolio of high-end genetics, Farma offers some of the best meds in the Pacific Northwest. They've cultivated incredible cannabis and a captivating space that offers life-enhancing benefits for its patients.
Washington
Seattle Washington
photo courtesy Ganja Goddess
ganjagoddessseattle.com
Ganja Goddess is a beautiful shop with a wide selection of both concentrates and flowers in one of our favorite legal cannabis strongholds, Seattle, Washington. The shop offers a $10 gram special each day and also goes the extra mile for customers by providing a free shuttle to and from downtown. The budtenders at Ganja Goddess have proven to be extremely knowledgeable and this dispensary also always seems to have a great selection of CBD strains.
Alaska
It's getting a little less cold in Alaska…
Alaska has seen a few false starts on cannabis decriminalization, but just at the end of October of 2016, the first adult-use marijuana retailers started opening their doors there. It still remains to be seen who will rise above the rest to lead the pack, but what's certain is we haven't heard the final word from the Final Frontier.
See the full list of the top 100 dispensaries here: The 100 Best
Originally published in Issue 24 of Cannabis Now. LEARN MORE
TELL US, what do you think is the best dispensary in your state?