High Yields From a Grow Box
Cabinet Grow is producing fabricated grow boxes that deliver more than big yields.
Sam May steps back and examines the objects that have washed up on his living room floor like flotsam from a shipwreck. It's a tangled mess that would warm the icy heart of the most malicious IKEA instruction manual writer. The year is 2008 and May, having gotten his medical marijuana card and tried a few local dispensaries — an experience he says was "god awful"— realizes that he needs to take the situation into his own hands and meet his own cannabis needs.
"I was looking for a way to grow at home, so that I didn't have to go somewhere shady to get it," says May. "Also, I wanted to know what was in my own cannabis, what I was putting in my body."
He first went looking for help from his grower friends — then attempted to get assistance from local hydro retail stores and says he was pressured, hassled and up-sold within an inch of his life. After hunting all over Southern California for a decent home cultivation system, he finally found a company that promised to have a solution to fit his needs.
Looking at the mess on his floor — what could charitably be described as "parts" and more accurately called "junk" — a pile that cost him nearly $5,000 and arrived six weeks late, he realizes that there has to be a better way.
Cabinet Grow for a home cultivation kit. He'd had his eye on a home grow system for the better part of a year. Pulling at the cardboard box, he discovers to his amazement that the kit looks to be pre-assembled, sturdy and ready to use immediately.
"I was surprised," says Ibarra. "I figured that it would arrive and be in a hundred pieces and be a real bear to set up."
Opening the cabinet door, he says the first thing he noticed was an array of supplies that "looked like presents under a Christmas tree" — a bevy of goods including planting pots, netting, fans, LED lighting, organic soil and a cache of nutrients. While he had read up extensively about the Cabinet Grow "YielderMax" for months before buying it, Ibarra says he was still surprised by how absolutely complete the setup was.
"I thought for sure it would arrive and I'd need to make a couple of trips to Home Depot or the hydro story to supplement whatever was missing," says Ibarra. "You sometimes get the bait-and-switch with online buys — but there was nothing missing. It literally required no extra rigging."
With the help of a friend, he lifts the castor-mounted cabinet off the pallet and rolls it into the spot he's prepared in his garage. It fits into the area like a glove. Sitting between a stand-up toolbox and a workbench, the Cabinet Grow is so covert it disappears into the garage like just another utilitarian cabinet.
Build It and They Will Grow
May and his best friend Matt Lee step into the warehouse workshop that has long been a part of Lee's family appliance business. May has turned to Lee for assistance in transforming his pile of junk into a viable home growing system. The appliance warehouse, while not completely empty of staff and stock, lacks its former bustle. The business has seen better days. Together, May and Lee use this quiet downtime to solve some of the beleaguered grow cabinet's problems – namely overheating, light leak and odor emission. They've added a few frills with their handiwork, but the cabinet that May ordered weeks before still has its deficiencies. He momentarily considers heading back to the dreaded hydro stores for guidance.
"Hydro retail stores just weren't servicing the small grower, at least not in a way that we would have liked to have been served," says May.
May and Lee realized quickly that the combination of May's frustration with the lack of a simple, self-contained and discreet home-grow product and Lee's need to find a new direction for his family appliance shop was a fertile ground for a business idea.
"So Matt and I decided to open a little-guy store, if you will," says May. "Tinkerers welcome, all sizes and we just started talking to people."
So, began their storefront experiment selling the custom cannabis grow boxes that they'd been designing for more than a year. Immediately, they found the boxes were a hit.
"They were selling like hotcakes!" says May, which prompted them to ramp up their efforts in the fabrication shop and make more and more boxes. That decision led to their ditching the storefront – a bit of "unnecessary overhead" – to focus exclusively on the manufacture of their turnkey indoor grow systems.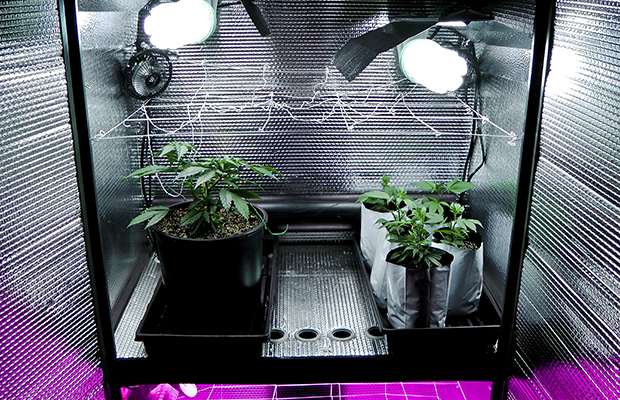 Jack and the Beanstalk
The glow of LED light emitting from the YielderMax bathes Ibarra in an ethereal purple hue. He's a kid in a candy store, tending to his GDP plants with the care of a new parent.
"These girls are at five weeks and they are super happy," says Ibarra, referring to the plants that are more than halfway through their flowering process. He says that the Cabinet Grow he bought, which he says virtually "vanishes into the garage cabinetry when closed," has been worth every cent and is a relief in more ways than one.
"I come home from work and the first thing I want to do is check in on them," he says. "It's really relaxing tending to these plants and watching them thrive. It's incredibly soothing."
Having put clones in the bottom, T5-lighted "vege" section of the two chamber YielderMax, he's watched patiently as they've grown from sprouts to adolescent plants.
"I feel like Jack and the Beanstalk – the first yield alone should be several ounces at least. That's hundreds of dollars I save not having to buy at dispensaries. And I'll also know exactly what went into growing these plants, every single nutrient used. That's the other big relief, knowing my medicine is safe."
Ibarra plucks old fan leaves from his plants and points out an impressive aspect of the cabinet: how the ventilation system has been engineered in a way to regulate temp and completely eliminate the smell of cannabis, which can be powerful, using a carbon filter and noise canceller.
"I don't worry about smelling up my whole neighborhood," he says. "I've used grow tents in the past and they just don't contain your smell. There's absolutely no odor leak into my garage right now."
Financial Industry National Regulatory Authority (FINRA) designation.
"I've been told we are we were the second cannabis business in history to go public the way we did," says May proudly. "This move will make the product and the experience for the customer better. Whether it's better service, better products or better grow customer support."
Ibarra fully agrees with that sentiment. "Cabinet Grow exceeded my expectations. I've found it necessary to use their customer support center a couple times to figure out growing issues – and it's killer. I had these moments where I needed answers fast and every question I had was answered with patience by a person who really knew their stuff and never talked down to me."
May and Lee are still cultivators at heart but now they're growing companies, not plants. As plants will grow to fill their environment, so Cabinet Grow is continuing its journey from seed to bloom, stretching its limbs.
"The plan is to create wholly-owned subsidiaries and use them as incubators," says May. "We want to facilitate healthy and responsible growth for our partners in this space."
Ibarra is stretching his limbs, too, gaining knowledge about his plants and how to cultivate.
"I was inexperienced at cultivating when I got this cabinet. Now I'm a little less inexperienced. I can't say I'll be a pro anytime soon, but this cabinet makes me feel like I'm really on my way to providing myself with good, safe herb for a long time to come."
Published in issue 17 of Cannabis Now. ON SALE NOW! Click here to purchase.