Sponsored
15 Best Rolling Papers and Weed Cones
High quality rolling papers for new and experienced cannabis smokers and joint rollers.
As cannabis increases in popularity, people have more options than ever before. The classic joint is one of the most well-loved ways to smoke the plant, explaining why rolling papers have remained prominent in the world of cannabis for so long. Joints are an excellent way for seasoned and new smokers to relax, medicate or just have a good time. Weed cones are another great option for cannabis smokers and have become much more favored in recent years. They are similar to joints, differing only in their shape: a joint is straight and narrow, while a cone is thicker on one end.
Today, most cannabis accessory companies sell rolling papers along with pre-rolled cones or joints. Pre-rolled cones are perfect for heavy smokers who don't have the time to roll all their cannabis, or new smokers who are still learning to roll. The best part is that everyone can enjoy, not just those that know how to roll. Regardless of your rolling skills, the choice of paper is crucial for the best smoking experience.
The list below focuses on the best of both worlds, featuring the top 15 rolling papers and weed cones. From classic options like Zig Zag, to more luxurious brands like Luxe, this selection includes the perfect paper for every kind of cannabis smoker.
1. King Palm
King Palm offers a unique smoking experience with their all natural palm leaf wraps and pre-rolled cones. Natural Cordia leaves are used for the paper, making this a true all-natural, environmentally friendly option. As their website explains, palm leaves were used for smoking as early as the tenth century. King Palm is giving cannabis enthusiasts a chance to go back to the basics with these all natural, handmade wraps.
Since their launch in 2016, King Palm has gained popularity among seasoned cannabis smokers. They sell over 21 flavors, including the ever-popular Lemon Haze and Pumpkin Cream. And because they only use natural terpenes for flavoring, they are considered healthier than other flavored rolling papers on the market.
Sizes of rolling papers vary on the King Palm site and range from size "rollie" (0.5 grams) to the limited edition XXL (7 grams). Sets come with reusable plastic pouches for storage, a bamboo packing stick and corn husk filter (what's included depends on the size of the order).
Users comment on the famously slow burn of King Palm rolls, the pleasant taste of the wraps and their unique look. All in all, these King Palm cones are a great choice for those seeking a natural and smooth smoke.
2. Raw
One of the more famous paper companies, Raw, remains a fan favorite among both newbies and experienced smokers. With a simple, translucent tan color and flavorless smoke, Raw papers and cones are ideal for any occasion. All products are made from unbleached paper with no added chalk or dyes. 
Cannabis smokers can choose from classic, black or organic hemp for their papers and pre-rolls. Sizes vary from classic, to "kingsize," to "challenge," and sets come with unrefined paper straws and filters.
Reviewers love the clean and flavorless taste of Raw's pre-rolled cones and rolling papers, allowing them to enjoy the essence of their flower instead of covering up the taste. Raw products are not sold online, but seekers can find local retailers on their website. 
3. Zig Zag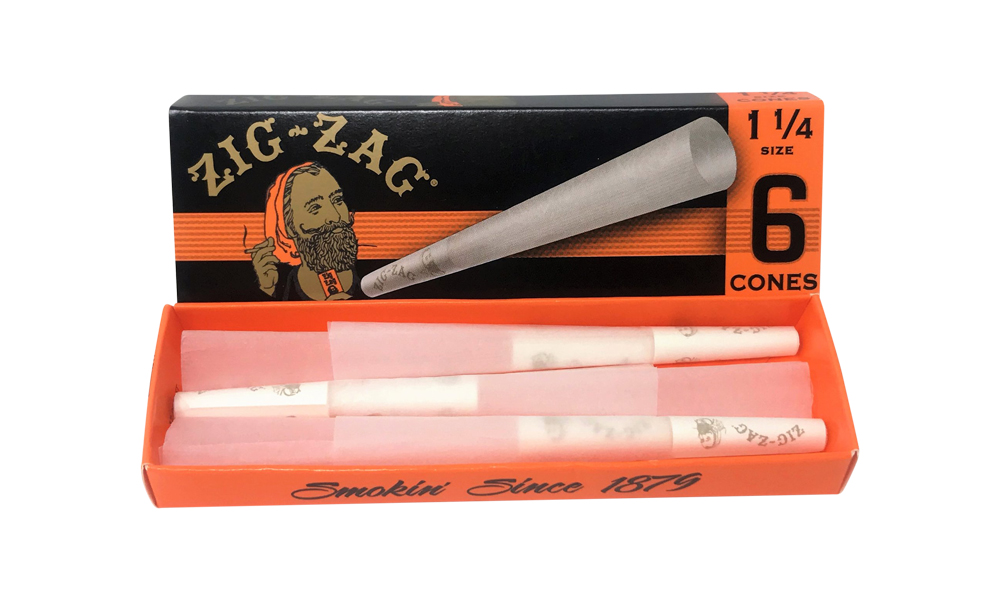 Established in 1882, Zig Zag continues to stay at the top of the list. Zig Zag sells a variety of papers, from ultra-thin, to organic hemp, to slow-burning. Buyers can find joints of different sizes, all made from 100% natural gum arabic and wood pulp and flax. Their pre-rolled cones are made with the same natural ingredients and come in a crush-proof box to take anywhere. 
Buyers can trust the quality of their product because of Zig Zag's extensive history in the rolling paper game, and their notably popular reviews. Gorgeous packaging and intricately printed paper makes for an extra classy session.
Zig Zag papers are known to be on the thicker side, making them the best option for skilled joint rollers, or smokers with a rolling device. Products, including rolling devices, can be bought through the Zig Zag website or other retailers. With reasonable prices and quality products, it's clear why Zig Zag has stayed in the game for so long.
4. Elements
Using eco-friendly materials and windmill power at their production plants, Elements products are an excellent choice for smokers that care about the origin of their rolling papers. 
Elements papers are made from rice paper, which makes for an ultra-thin product with very little taste. The papers and pre-rolled cones have a crisscross watermark to create an even burn.
The company prides itself on two aspects of their products: the easy-closing magnetic box, and the foldless paper. If you like to smoke on-the-go or are just learning how to roll, Elements is a great option for you. The joint holder with magnetic closing makes it easy for joint enthusiasts to take their papers anywhere and everywhere. And since the papers come with no fold, you can make your own. Elements also sells rolling machines for those seeking a clean, perfect roll every time.
Elements papers can be found on Amazon and other distributors, for a low price of $3.99 for 300 papers.
5. OCB
OCB, or Odet-Cascedec-Bollore, is a family-founded company established in 1822. Beginning as a paper mill and eventually transitioning to rolling paper manufacturing in 1918, it is another historically trustworthy company. 
OCB papers are made from flax plant fibers and 100% natural gum arabic for a vegetarian, eco-friendly product. The packaging is also recyclable.
Buyers can choose between OCB Premium and OCB Organic. Premium offers an especially thin paper for a transparent finish. OCB Organic offers hemp papers, which can vary in color based on the years the leaves were harvested. Smokers can see the natural quality of the papers from these color differences!
For both Premium and Organic, OCB sells a variety of sizes: the standard 1 ¼ inch, single-wide, or king slim. Fan favorites for users new and old, OCB provides a thin paper with a clean taste.
6. Pure Hemp
Pure Hemp advertises the importance of smoking natural, tree-free papers. Made in Barcelona, Spain by the paper company Miquel & Costa & Miquel, Pure Hemp delivers an eco-friendly, 100% hemp paper.
They promotes a slow burn with low ash, and papers with a natural hue instead of a bleached look. Pure Hemp's website even details the production process for these papers – all the way from the hemp's origin, to the history of the family-founded company.
As with other options, there are four sizes to choose from, including standard 1 ¼ inch and king size pre-rolls or papers. Cannabis smokers love the natural taste and sturdiness of Pure Hemp papers. Better yet, Pure Hemp products can be purchased on their store site, or through other retailers using their store locator. Their lowest priced product is a set of 1250 1 ¼ inch classic papers for $32.00.
7. Simpacti
Simpacti offers more than just rolling papers or pre-rolled cones. The company was founded in 2015 with the "packNpuff," a device used for the perfect pre-roll pack. Their website offers the packNpuff cone loader, pre-rolled cones and cone holders and filters. A purchase of any packNpuff device includes a set of pre-rolls. 
There are two options for the packNpuff and pre-rolled cones: standard 1 ¼ inch or king. The king-sized packNpuff also works on standard joints. Papers from Simpacti are unbleached and made from hemp. Reviewers love the simplicity of the packNpuff device and note the flavorless, solid smoking experience of Simpacti's hemp papers.
The standard packNpuff goes for $29.95, including 20 pre-rolled weed cones. It's a great deal for a rolling device and a couple pre-rolls. Alternatively, Simpacti sells 25 pre-rolled cones for $16.99 – on the expensive side, but worth it for the quality.
8. Hornet
With a very extensive collection, Hornet Paper is a great option for seasoned cannabis smokers. A set of flavors including Jamaican Rum, Champagne, and Cappuccino gives buyers a chance to experiment with the mixing paper flavor and flower. 
Hornet offers natural rolling papers and cones made from unrefined hemp. Options also include Savannah coffee papers, brown paper cones, and transparent cellulose sheets. The cellulose papers are made from organic vegetal, a fiber extracted from plants. Hornet's flavored papers can be purchased in-store, and all their products can be found through other online retailers.
While the flavored papers are their most popular product, all of Hornet's options give cannabis smokers a variation on their everyday joints. Plus, their prices are still reasonable at $6.99 for 192 papers on Amazon.
9. Ornate Ocean
For a fun twist on the standard cone, Ornate Ocean offers designer pre-rolls. This set includes 50 printed pre-rolled cones in the style of $100 bills. Even with the exciting design, Ornate Ocean's papers are still made from unbleached fibers. From watermelons to dollar bills, Ornate Ocean gives cannabis users a chance to change things up for special occasions, or even a night in. 
The company uses environmentally friendly sources and production for the best quality. Cannabis smokers can appreciate the elegant look and quality of paper, and, each set of pre-rolled cones comes with a mini metal snuff spoon for packing!
The prices for these designer papers are fairly average at $29.98 for this set of 100 cones. For someone who wants to feel a little fancier on their daily smokes, smoking a hundred-dollar bill seems like a good place to start.
10. Ubung
A lesser-known choice for rolling papers is Ubung. Made from unbleached, unrefined plant fibers, Ubung papers come in a classic tan shade. Cones are sold with a cone loader, packing stick and plastic "doob tubes." 
The "doob tubes" keep weed cones safe and smell-free, which is perfect for smokers-on-the-go. Raved about as a great paper for slow-smokers and sharing with friends, this paper burns smoothly. The entire set comes in a sealed jar for safe keeping, too
Ubung papers are hard to find, and the company doesn't have a specific website, but it's worth the search. For someone who appreciates a classic smoke with a great price ($18.99 for 450 rolls), Ubung is an excellent choice.
11. Juicy Jay's
Juicy Jay's flavored joint papers are a time-honored way for those who love joints to spice up their standard smoke. With one of the more extensive sets of flavors, ranging from peanut butter to marshmallow to raspberry, there is a choice for every favorite. 
The novelty flavors add a natural hint of taste to any joint, without overpowering the flower. Juicy Jay's has the standard 1 ¼ inch, a 1 ¼ slim, and a king size. They even have two menthol flavors – Cool Jays and Black Magic – for an unusual spin on the standard joint.
Juicy Jay's fans love the taste and price of their rolling papers. Available at online retailers and almost every head shop around town, these are easy to find too.
12. Gypsy Palace
Another tree-free option for rolling papers comes from Gypsy Palace. These papers are made with cellulose and are 100% biodegradable. 
What's most unique about Gypsy Palace papers is the completely clear look. The cellulose papers are fully transparent, allowing flower enthusiasts to see their product through the rolling papers.
Cellulose also means there is no need for gum, since the paper sticks to itself when wet. With that, rollers can choose their preferred cone size. These are perfect for smokers who prefer something a little thicker, or something long and lean.
Though unique in their use of cellulose, Gypsy Palace keeps the prices low (around $6 for 200 papers). For anyone who smokes stellar weed and wants to see it light up clearly, Gypsy Palace is a great choice.
13. Luxe
Known as "The World's Most Luxurious Rolling Paper company," Luxe gives cannabis users the option to fancify their smoking experience. From beautiful printed pre-rolls to intricately designed rolling papers, Luxe has ample options for a colorful smoke. 
Being on the pricier side, Luxe is a great choice for special occasion smokes, or sessions with a group of pals. They even offer custom printed pre-rolls and paper, so cannabis smokers can design rolls with their favorite images.
Fans of Luxe love the quality of the smoke, and the memorable feeling that comes with every Luxe joint. With such an artistic take on joints and cones, Luxe is bound to continue growing in popularity.
14. Shine
Another option for a luxurious smoke is Shine. Inspired by the London Cut Gold Cigar, Shine designed the first 24K rolling paper. Sold in a beautifully simplistic box, the papers are available in gold or silver. 
The gold rolling papers are handcrafted with edible 24K gold. Using a base of hemp and the edible gold finish, they are extremely safe to smoke and enjoy. Ash from each 24K joint even contains flecks of the gold.
Though on the pricier side for obvious reasons, these are a great option for a birthday or holiday, or even just a personal pick-me-up. For anyone looking to spend a night in elegance, Shine can provide a cone to mark the occasion. One gold cone is priced at $16.00 on their website, and sheets of six are priced at $50.
15. Bambu
Seasoned smokers will recognize Bambu's classic packaging. Bambu is one of the world's 1,000 oldest companies. The long history of Bambu should comfort every smoker, as they've been trusted to produce quality paper since 1764, originally making Bible paper before transitioning to rolling papers.   
Made from wood pulp and natural gum sealer from the African Acacia tree, Bambu papers are another natural option with no additives of any kind. With size choices of 1 ¼ inch to king, and a choice of organic hemp, cannabis smokers can feel good about Bambu.
Sold mostly in bulk packs, Bambu is a great bang-for-your-buck option. New and seasons cannabis smokers love the quality of the paper, the history of the brand, and the price point.
Bambu papers and cones can be found on their website, other online distributors, or in-stores starting at $5.99 for a 3-pack.