Sponsored
Top 10 Best Flavored Rolling Papers and Wraps
A closer look at some top-rated brands working to add flavor to your next cannabis smoking session.
Many people like using unflavored papers, so they can simply enjoy the natural taste of their chosen flower. Others prefer a fruity or minty flavor to enhance their smoking experience. In today's market, we have more choices than ever. Some brands offer amazing flavors to complement your flower while others may leave a strong chemical aftertaste that leaves much to be desired. Whatever your preference may be, this article will help you find your next favorite rolling paper or wrap.
We took a look at multiple elements when comparing the current best flavored wraps and papers for sale. Ingredients are a huge factor, affecting how your joint tastes, how fast it burns, and how easy it is to roll. The ingredients can also impact how healthy the joint is. Some people prefer flavored rolling papers, tobacco wraps, hemp wraps, or fruit terpenes inside of corn husk filter tips. Every cannabis user has their own unique needs that will be met with different types of material.
There are many kinds of flavored wraps and weed cones on the market, but the three most common materials used to make joints are:
Hemp Rolling Papers: These are virtually flavorless and burn slowly. Hemp wraps are also known for staying lit, which is helpful for on-the-go smokers. They are made from hemp fiber and are generally not bleached, which gives them a light brown color. They are relatively easy to roll, making them popular for newcomers. They are also perfect for seasoned stoners who want to taste their weed.
Rice Rolling Papers: Rice rolling papers are thinner than hemp rolling papers. They are a bit harder to roll than hemp, but they burn very slowly. People enjoy them for leaving virtually no aftertaste and being easy on the lungs. Rice rolling papers are very fragile, especially in wet conditions, so they are better for smoking indoors. They also go out quickly, so make sure your lighters are filled!
Cordia Leaf: A tobacco free leaf that's similar to a blunt wrap, the Cordia leaf wrap comes hand-rolled and ready to stuff with cannabis. A corn husk filter tip is also preinstalled. These weed cones will burn much slower compared to any rolling papers and are virtually tasteless. They were first introduced by the company King Palm, which has high standards for growing organically.
Best Flavored Rolling Papers In 2021
Flavored rolling papers add an extra element of fun to your smoke session. Chances are if you're a seasoned smoker, you enjoy the taste of weed. However, sometimes it's nice to taste some fruity flavors to make your cannabis' terpenes pop. Explore the vast amount of flavored rolling papers with these 10 picks!
1. King Palm: Crush Filter Tips with Terpenes
Flavored papers can leave you with a pleasant aftertaste, but they don't match up to King Palm's real fruit terpenes. Just crush the corn husk filter tip to release the infused natural flavoring. The corn husk filters offer an unparalleled filtration, resulting in a smoother smoking session.
King Palm boasts 25 flavors, including Watermelon Wave and Magic Min, as well as newer flavors like Cherry Charm, Honey Pot, Pumpkin Cream, and Rich Chocolate. Ready to go, these are sold as pre-rolled cones, available in a wide variety of sizes, completely eliminating any need to roll them yourself.
Lastly, King Palm's crushing technology allows users to either pop the filter and experience flavor immediately or taste the weed's natural terpenes before activating. Every King Palm leaf cone is eco-friendly too
2. King Palm Leaf Wraps with Flavored Filter Tips
Smoking cannabis with a super slow and smooth burning King palm leaf wrap makes for an easy, all-natural smoke sesh. The Cordia leaf offers a smooth hit that's easy on the lungs. The leaf burns slowly and evenly for a relaxing smoking experience. Unaltered and 100% organic, the Cordia leaf if free of harmful chemicals and additives that are present in other rolling papers. They also don't include any nicotine, ensuring that they are not habit-forming. Enjoy a super smooth and flavorful combination with your bud with King palm flavors.
3. Juicy Jay's
Juicy Jay's have been the go-to flavored rolling paper for a long time. Easily the most popular brand, Juicy Jay's revolutionized the flavoring process. Most flavored rolling papers have all the flavor contained in the gum line. Juicy Jay's rolling papers changed this with their patented triple-dip method, ensuring the entire joint is bursting with flavor. This method offers a more robust taste to match their wide flavor selection, which includes Tequila, Peanut Butter, Wham Bam Watermelon, Root Beer, and Jamaican Rum.
These joints also differentiate themselves aesthetically, as their papers have a printed pattern on each joint to match the flavor. The ink is soy-based to ensure that Juicy Jay's doesn't have a nasty chemical taste. Some users even suggest using the flavor patterns to help organize your joints based on different weed strains.
Juicy Jay joints come in almost any size – from 1 1/4″ to king-sized – and the thick paper burns slowly and evenly. Thinner sizes are also available if desired.
4. Hornet
Hornet rolling papers may not have the strongest flavor, but they make up for it with a massive collection of customizable options. Users can choose between cellulose, natural paper, and hemp with cotton filters, among others.
The rolling papers are stable and durable, making them a popular pick for busy users on-the-go. They come in a variety of fresh fruit flavors – some of the most popular include banana, honey, coconut, strawberry, and pineapple. Many users like Hornet for its subtle flavoring, as it allows the flavor of their herb to shine.
5. Skunk Brand
Skunk Brand flavored rolling papers have been a fan favorite for over two decades now. Made from 100% hemp, their system to ensure a slow and even burn is called a "run preventing watermark". The paper is made with a cross-weave pattern and vertical hard-stop lines to control the burn.
These rolling papers are sealed air-tight to ensure freshness. The flavor of Skunk Brand is intentionally subtle, as it's designed to enhance the flavor of your cannabis, rather than mask it. The papers are made with all-natural ingredients, including a small amount of cane sugar to provide a fantastic flavor.
Skunk Brand currently comes in six delicious flavors: Strawberry Skunk, Blueberry Skunk, Hawaiian Skunk, Skunkolated, Skunkalicious, and Blackberry Skunk.
6. Zig-Zag Wraps
Zig-Zag rolling papers may be the most iconic in the world. Born out of France over 120 years ago, these papers are made from wood pulp and have a thin glue line to help create a perfect seal. Zig-Zag rolling papers are notoriously fun to roll, too. The paper is incredibly thin, so it's not exactly a beginner's roll, but it smokes very slowly and tastes great.
Zig-Zag used to come in 3 standard flavors, including orange, vanilla, and grape. Though their selection isn't massive, the quality of the paper speaks for itself. However, they've slowly expanded their flavor selection to include Apple Blitz, Cherry Rush, and Blueberry, among others.
7. Rizla
Sometimes original is best. Rizla flavored rolling papers were the world's very first flavored rolling paper. Rizla is made from rice paper (Riz is French for Rice) and has been providing users with a quality smoking experience for over 135 years.
They released their first two flavors in 1906, starting with strawberry and menthol. Since then, they have widely expanded their flavor selection. Rizlas also come in a variety of sizes and thicknesses, indicated by the color of the pack. One of their most popular flavors is their iconic licorice-flavored papers, known for their strong and distinctive licorice taste. Rizla is also offering DIY flavor cards to allow users to self-infuse their joints with minty menthol flavors.
8. Cyclones
Innovation cannot be ignored. Cyclones were the first brand to bring flavored pre-rolled cones to the market in 2003. Over the years, they have been able to refine their process to produce consistently delicious flavors with some unique innovations.
Their first innovation was making entirely clear rolling papers with cellulose fiber. This gives some people pause, but there's no need to worry – the cellulose is derived from natural sources like wood pulp, rice, cotton and flax. This cellulose material burns smoothly and evenly for a leisurely smoking experience.
A few of the brand's flagship flavors include grape, strawberry, and tiki tango. The joints come pre-rolled, which makes them popular for beginners looking for an easy and flavorful smoking experience.
9. E-Z Wider
E-Z Wider rolling papers were intentionally designed for smoking cannabis. They've been around since the '70s and were inspired by the Jack Nicholson film "Easy Rider." Made from rice, these rolling papers are also made with Arabic gum, which doesn't have any artificial flavors or additives. They are notoriously easy to roll, offering a wider paper that's appealing for beginners. Some of the flagship E-Z Wider flavors include wild berry, grape and pina colada.
10. RIPS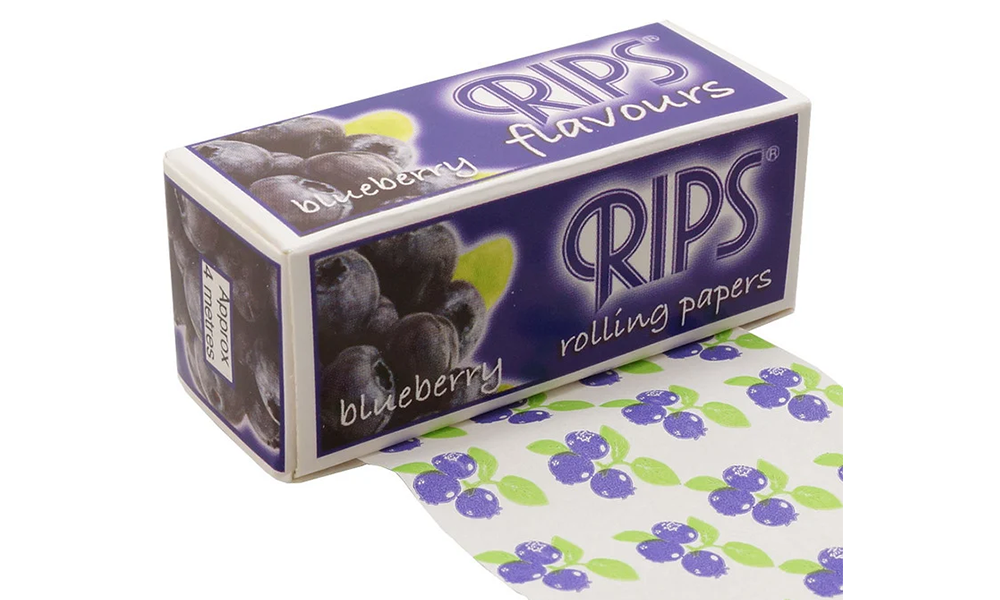 RIPS have been around since 1972, but only recently started carrying flavored rolling papers. The rolling papers are generally made of rice, but 100% hemp papers are also available. In the company's early days, they were marketed as the only paper on a roll. In 2006, RIPS launched a line of flavored papers that were sealed tightly and individually to ensure fresh flavor.
Some of their flagship flavors include bubble gum, cola, chocolate, grape, peach, and mint. RIPS rolling papers burn slowly and smoothly. The paper is gummed with Arabic gum and comes with a watermark to ensure you're smoking the real thing.
If you need help on how to roll, check out this guide on how to roll a blunt. We also made another list on the 15 best rolling papers without flavor.