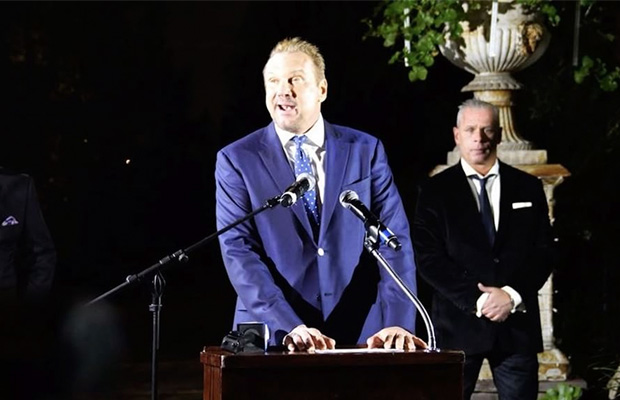 Culture
LA Officials Order 'Marijuana Mansion' to Cancel Epic Super Bowl Party
What was being billed as "the most gangster Super Bowl party in Hollywood" will sadly not come to fruition.
Cannabis entrepreneur Mike Straumietis, otherwise known as "BigMike" to his adoring Instagram fans, was issued a stop-work order by city officials for a massive party to be held at his lavish Hollywood Hills apartment.
BigMike announced the abrupt cancellation through a press conference held at his residence on Saturday night, merely hours leading to the big game.
"The last thing I want to happen is for the LAPD and other city officials to storm the party and put any of my guests, the officers themselves, my staff, and in fact, any of the neighbors — some of whom attended my last party and really enjoyed themselves, in a compromising situation," said Straumietis.
The $1 million event was promoted heavily on Straumietis' social media platforms with a contest awarding the winner an invite with paid airfare, hotel, and spending money.
The party's high profile raised concerns from several neighbors that recall the aftermath of last year's event, which they say brought unneeded traffic congestion and mounds of trash from over 500 guests visiting the affluent neighborhood.
"Anybody can have a party," neighbor Ilse Speck told NBC News. "But hundreds and hundreds of strangers? And you advertise it on social media?"
BigMike, who made a fortune through his cannabis cultivation company Advanced Nutrients, isn't putting the blame on his neighbors, however.
"Clearly, my neighbors are being used as scapegoats by high-ranking officials in the city of Los Angeles, as a continuing pattern of bullying and intimidation, solely because we are in the cannabis industry," said Straumietis.
The cannabis fertilizer magnate says his lawyers are now drafting a lawsuit against the city, citing massive losses from canceling the party on extremely short notice.
"I have evidence that we have been intimidated and bullied, solely because we are in the cannabis business, which will come out at the appropriate time and in the appropriate venue," said Straumietis. "I assure you there is strong merit to my statement and I look forward to presenting them in an open court of law."
https://www.youtube.com/watch?v=Exh_AoY_bRk&t=27s