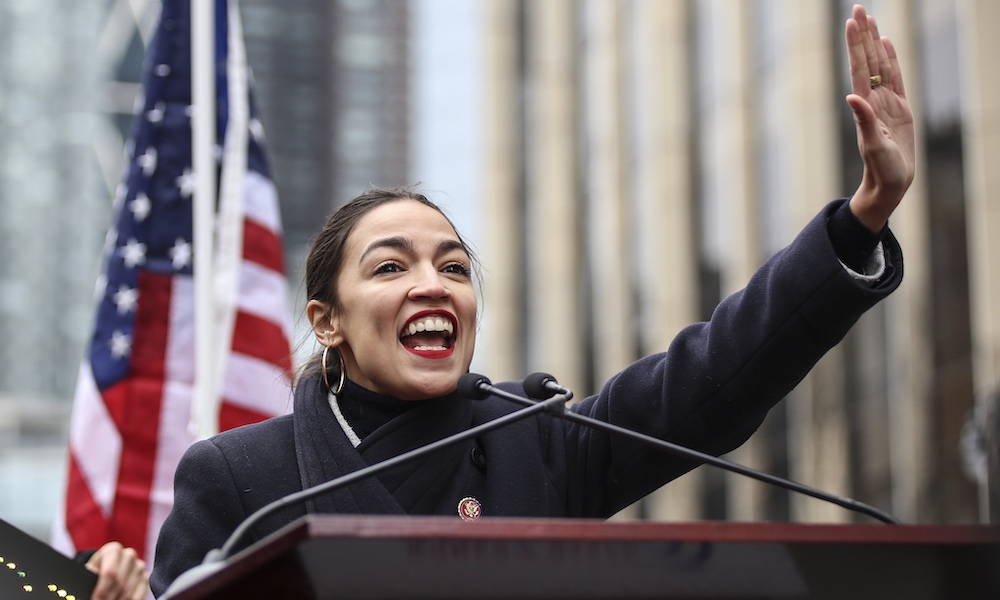 Politics
House Votes in Favor of AOC's Measure To Cut DEA Funding
The House of Representatives has passed a measure that would cut DEA funds and transfer the money into opioid treatment programs.
The past week has seen a flurry of cannabis-related legislation in the U.S. House of Representatives.
Much of the coverage has focused on the passage of a measure on June 20 that would effectively force the Drug Enforcement Administration to honor state-level legalization policies. The amendment would block the Justice Department from using funds for enforcing federal marijuana laws in states or territories that have legalized adult-use cannabis. The rider to a general appropriations bill was sponsored by representatives Earl Blumenauer (D-OR), Tom McClintock (R-CA) and Eleanor Holmes Norton (D-DC). It would also apply to the District of Columbia, where voters approved a limited legalization program in 2014.
While the measure may face a tough fight in the Senate and then the prospect of a Trump veto, its passage by a healthy 267-to-165 vote still represents a landmark. An effort to pass such a measure last year failed when the bill died in committee.
In the shadow of this "Blumenauer-McClintock amendment," however, a few other notable cannabis measures have passed in the House this past week. Rep. Alexandria Ocasio-Cortez's measure to cut DEA funding passed, as did a measure to restrict federal enforcement on Native American tribal lands where cannabis has been legalized and a measure to push the FDA to regulate CBD. Unfortunately, a measure to allow Veterans Administration doctors to recommend medical marijuana in medical states failed.
DEA Funding To Be Cut?
First, this week, lawmakers in the House of Representatives approved a measure that would divert some funding for the Drug Enforcement Administration. Introduced by Rep. Alexandria Ocasio-Cortez (D-NY), the amendment would transfer $5 million from the DEA to opioid treatment programs. It passed without opposition on a voice vote, as Marijuana Moment reports.
"I offer this amendment because ending the War on Drugs has to mean changing our priorities in order to keep all communities safe and healthy," Ocasio-Cortez said. "The best way we do that is by offering people the help and support they need before arrest and criminalization."
She emphasized that even with her diversion, the DEA would still receive $2.36 billion — which is $90 million higher than was appropriated for the last fiscal year, and about $78 million higher than President Trump asked for in his budget request.
Amendment Calls on FDA to Regulate CBD
Another approved amendment, introduced by Rep. Jerry McNerney (D-CA), calls upon the Food & Drug Administration to finally regulate CBD products, addressing a dilemma that has been outstanding since hemp-derived CBD was legalized under the 2018 Farm Bill. The amendment instructs the FDA to "undertake a process to make lawful a safe level for conventional foods and dietary supplements containing cannabidiol (CBD) so long as the products are compliant with all other FDA rules and regulations."

However, the U.S. Department of Agriculture, like the FDA, has also failed to bring its hemp regulations into conformity with the Farm Bill. Now, the USDA is under pressure from litigation as well as Congress. The Flandreau Santee Sioux Tribe has launched suit in a South Dakota federal district court, seeking to force the USDA to approve its plan to regulate hemp production on tribal lands.

Under provisions of the Farm Bill, state and tribal hemp plans must be approved by the USDA within 60 days of being submitted. The USDA received the Santee Sioux plan on March 8, and the tribe made clear that it had already invested money in anticipation of planting a hemp crop in 2019. The tribe says the USDA's inaction on the plan places it at jeopardy of losing a revenue source it counted on.
"A delay in approval of the tribal plan and unlawfully withholding tribal authority curtails receipt of the tribal revenue from hemp production at grave cost to tribal members, putting tribal members' health, safety, and welfare at risk," the lawsuit states, according to the Argus Leader in Sioux Falls, SD. Instead of approval, the tribe received a letter dated April 24 from Agriculture Secretary Sonny Perdue, saying that no plans would be approved until the USDA established regulations to oversee hemp cultivation—and that these regs are not expected to be completed until this fall.
Vets Have to Wait
Failing to pass this week, alas, was a measure that would have helped military veterans access medical marijuana. The measure sought to allow Department of Veterans Affairs doctors to recommend cannabis in medical marijuana states, but was pulled from a vote in the face of opposition. Sponsor Blumenauer, who is co-chair of the Congressional Cannabis Caucus, stated on the House floor that "the VA has not been as helpful as it should be" in aiding veterans seeking medical cannabis as an alternative treatment for issues including chronic pain and post-traumatic stress disorder, instead of highly addictive opioids and other drugs.
Blumenauer later told Marijuana Moment in a phone interview that the VA "blindsided" lawmakers by issuing a statement while the measure was under debate, arguing that their physicians "would have been professionally liable" if they issued medical marijuana recommendations.
As the veterans' issues website Connecting Vets Radio notes, a stand-alone bill, the Veterans Equal Access Act, also sponsored by Blumenauer, would essentially do the same thing as the withdrawn amendment. It is still in committee.
TELL US, do you think the DEA's funding should be cut?