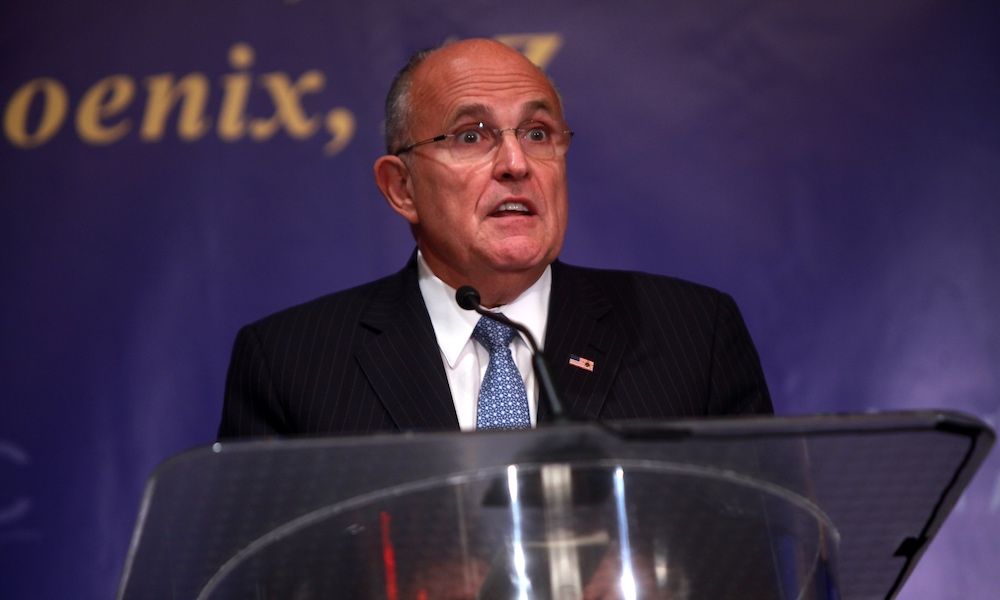 Economics
The Trouble With Corruption in the Cannabis Industry
Legalization was supposed to take cannabis out of the hands of criminal networks, but state models with expensive, restrictive licensing seem to encourage crony capitalism.
The cannabis industry is currently getting a little unwanted publicity, with the indictment of four figures linked to Rudolph Giuliani, President Donald Trump's controversial lawyer — including on charges of influence-peddling on behalf of cannabis dispensaries.
The first in the recent spate of busts came on Oct. 9, when two Florida-based businessmen who apparently helped Giuliani in his attempt to dig up dirt on former Vice President Joe Biden in Ukraine were arrested at Washington's Dulles International Airport. Lev Parnas and Igor Fruman are charged with campaign finance violations, conspiracy and other crimes, including donating foreign money to a Republican gubernatorial candidate in Nevada in an attempt to get selected for a cannabis license.
The next day, Andrey Kukushkin, a Ukrainian-born naturalized U.S. citizen, was arrested in San Francisco. Another associate in this nexus, David Correia, was picked up by federal agents on Oct. 16 at New York's JFK airport. The four men were named in a grand jury indictment announced on Oct. 10 by the Southern District of New York.
Officials are charging the four men with making illegal political donations to politicians and candidates at the state and federal level — in a bid to secure their assistance in winning licenses for a cannabis business in California and Nevada. The donations are said to have been underwritten by an unnamed foreign national.
Altogether, the recent indictments illustrate how a restricted cannabis industry — with high start-up costs, intense pressure to get a "first-mover advantage" and limited licenses — gives plenty of encouragement to bad actors to try and get a leg up.
In California, cannabis licenses themselves can cost thousands of dollars, plus thousands more in legal fees. Cities have the authority to restrict the number of licenses they will award, which makes the competition for licenses high.
In Nevada, officials passed a law restricting the number of dispensaries in the state to 130, including the 66 dispensaries that were already open through the state's medical cannabis program. The process of selecting who won those coveted remaining licenses came under so much scrutiny that a judge ruled in August that the licensing process in the state needed to freeze in light of strong evidence of mistakes and bias.
FBI Probes Industry Corruption in Sacramento
In Sacramento, federal officials seem to already be investigating potential corruption.
One of the four men recently indicted, Kukushkin, is apparently chief financial officer of Sharp Source, which operates the Twelve Hour Care (or THC Sacramento) dispensary in the California state capital. The Sacramento Bee reports that Kukushkin is also is listed as one of two permit holders for THC Sacramento.
Sacramento's Mayor Darrell Steinberg has called for an investigation into how this dubious operator has managed to achieve such a dominant position in the city's cannabis sector.
But the FBI has apparently beaten city authorities to the punch. Citing anonymous sources, the Sacramento Bee reports that the FBI has opened its own investigation into possible pay-offs to public officials in the city and surrounding area in exchange for favorable treatment and license approvals.
Queried by the Bee, the FBI would neither confirm nor deny that such an investigation is underway. But claims of the investigation come two months after the FBI announced in an official agency podcast that it was "seeing a public corruption threat emerge in the expanding cannabis industry." In the podcast, the agency appealed to the public for any tips about corruption in the cannabis industry.
The California Bureau of Cannabis Control is also looking into the Sacramento sleaze, according to the Sacramento Business Journal.
That, however, is the more predictable news. What's interesting — and new — is the FBI's involvement: not, this time, on the basis of cannabis being a controlled substance, but policing the industry for general corrupt practices. Just like any other industry. It's also notable that this scrutiny is coming from the FBI rather than the DEA.
In the agency podcast, entitled "FBI This Week," the robotic voice of the anchor says that the bureau sees "a public corruption threat emerging in the expanding cannabis industry." When an actual human being is given a voice clip, an intelligence analyst named David Kirchner says: "It's our role as the FBI to help to ensure that corruption doesn't spread in this new industry."
So, if in a slightly perverse sense, this FBI attention can be seen as another sign of the normalization of cannabis. If not exactly the kind we've all been hoping for.
A Pattern in the Industry?
Alas, while the latest revelations are getting some national attention due to their links to Giuliani and the Ukraine scandal, they are not the first we have heard about corrupt practices in the legal cannabis business.
The long delays in the Ohio medical marijuana program, approved by state law in 2016, have been in part due to concerns over corruption.
Last year, an unseemly squabble erupted over the state's scoring of the 185 applications for 26 licensed cannabis growers, a process that took five months to complete. The scandal and litigation concerned charges of favoritism in handing out the licenses. It later came to light that one of the officials responsible for grading the applicants was a convicted felon, and another had close ties with one of the applicants. Cannabis businesses charged corruption and complained that the state had limited the cultivation licenses to just 26.
Last year also saw the resignation of Florida's embattled medical marijuana chief Christian Bax. He left office just as state health authorities were preparing for a flood of applications for a few highly coveted cultivation licenses. The Sunshine State's CBD-only medical marijuana program, approved by voters in 2014, has also been beset by charges of corruption and favoritism.
Such accusations led to a push to open up the state's cannabis sector, which initially was to be dominated by just seven vertically integrated companies, controlling everything from cultivation to sales. The South Florida Sun Sentinel ran an editorial in 2017, demanding "Break up Florida's medical marijuana monopoly." The number of licensed operators has now been doubled to 14, but they must still be vertically integrated, with multiple dispensaries run by a single entity that also controls cultivation and processing.
The FBI podcast warned that the "decentralization" of licensing in many Western states — with local as well as state authorities having to sign off on cannabis businesses — provides more opportunities for corruption. But there is also a good case that the laws limiting cannabis licenses in some Eastern states encourage corruption through an overly competitive atmosphere.
In any case, the headlines from Sacramento, and their link to the impeachment inquiry underway on Capitol Hill could result in a long-overdue national push for greater transparency and accountability in the legal cannabis sector from coast to coast.
TELL US, should capital and cannabis mix?