Dispensaries
The Ultimate San Francisco Dispensary Crawl
Without a doubt, San Francisco dispensaries rank among the best in the world. How about a test run in search of a superior cannabis club experience in the City by the Bay?
I carried my bike up the stairs up and out of Embarcadero Station in downtown San Francisco. It was a clear and sunny day, although you couldn't really tell between all of the buildings. I came here looking for a challenge. Which challenge you ask? Visiting some San Francisco dispensaries (best in class, of course) with only the cash I had in my wallet. To be fair, I did grab a $100 bill from the ATM beforehand, but with the cash I already had in my wallet, I ended up with a little more than $120. I was hoping to find some good in-house products or first-time deals to help me stay on budget on my San Francisco dispensary crawl. It had just rained a few nights before and the air felt crisp. I hopped on my bike and headed to my first stop. This was going to be fun.
The Challenge Begins
I rolled up to San Francisco's main artery, Market Street, and cruised over to O'Farrell Street where I pulled up to Stiizy Union Square. The fourth Stiizy retail location in SF is the first Latina-owned cannabis store to have opened via the city's Cannabis Social Equity program. Just a short walk from Union Square and Powell Street, and it's close proximity to Polk Gulch and Chinatown, this is the perfect location for anyone who's in town to do some sightseeing. The store was cozy but the energy was high. I decide to grab an eighth of an ounce of some sativa house flower, the Lemon Up. The price was right at a tad more than $20 out the door.
I saddled up and steered back over to Market Street and headed to my second destination, Moe Greens. This mid-market dispensary is known for its frequent and exciting customer appreciation events hosted in its spacious lounge—they even have a dab bar! I knew I would get a beverage at some point since there are a decent amount of affordable high-dose options out there. I ended up grabbing a Kwik Ease 100mg Sativa Shot, one of my favorite products available right now. You already know I had to make sure to stop and have a dab before hitting the road again.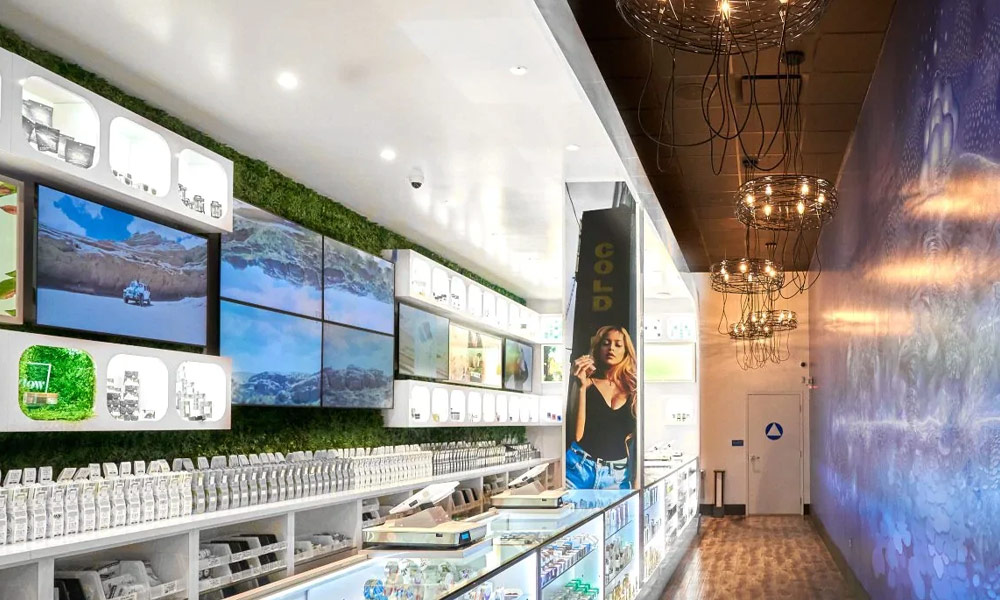 Next up was the formidable Mission Cannabis Club. I biked through the South of Market neighborhood (SOMA) and up Folsom Street and crossed over to Mission Street on 23rd. A few blocks past my mark but the trees looked so pretty with their changing leaves, I didn't mind too much. Here, in the heart of the Mission District and equipped with a consumption lounge as well, the Mission Cannabis Club provides a relaxing space for people who live and work in the area. I kept things simple with a West Coast Cure Pre-Roll and spent some time smoking and winding down in the lounge with a colleague. 
After the much-needed break, it was time to start the real climb. I rode across Valencia Street and up 17th Street towards the Castro District to Flore Dispensary, one of San Francisco's newest that has deep roots in the medical cannabis scene. The shop was open and vibrant filled with natural elements such as wood and moss that you almost forget you're in the city. Luckily, Flore was stocked with great, affordable sun-grown house flower that helped me stay on budget. Plus, who says no to Jack Herer? I got a 1g infused pre-roll for being a first-time shopper, too! 
I was losing sunlight but had one last stop to make on my San Francisco dispensary crawl. I follow The Wiggle up to the Panhandle of Golden Gate Park and over to Haight Street to visit Berner's On Haight. It's late and the foot traffic has died down. A few tourists stood around and inspected the display nugs on the sales floor. I knew I wasn't going to get anymore flower so I checked out the edibles shelf but I wanted something cooler. That's when I saw the Mystery Baking products in the cooler, it was the perfect option. I chose the classic 300mg cannabutter, you can never go wrong with that stuff.
Time to Ride and Reflect
It was getting dark now, turned on my bike lights for safety and hurried back down Market Street towards the ever-popular Ferry Building. It was getting cold, and I was trying to catch the next ferry across the bay. It's a ride I've made seemingly a million times before, it was long and I knew I'd be exhausted by the time I got home. The big bag of weed on my back made me feel better about it though, that's for sure.
Just another beautiful day in the City by the Bay.