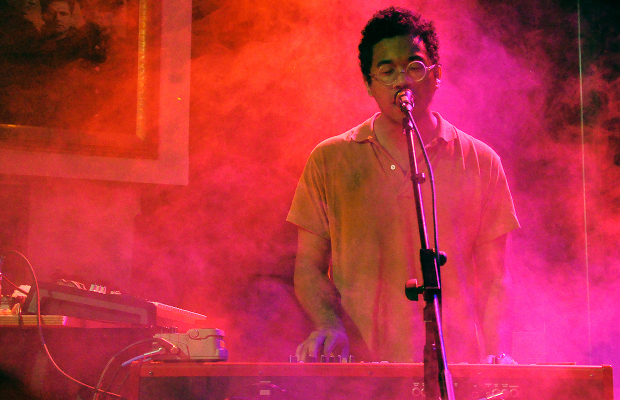 Culture
Light Up Your Speakers with Chaz Bundick & the Mattson 2
The retro acid rock sound is experiencing a resurgence in popularity, and one of the most interesting expressions of this moment in music comes from an unexpected source — the minds of an electro-pop producer and a spacey jazz duo.
You don't have to look far these days to find rock bands that are overtly indebted to the genre's roots. Tune into stations like KCRW in LA or KEXP in Seattle, and you're likely to hear bands like the Lemon Twigs and Foxgyen — artists that keep a sturdy hand on the past. It's no wonder; the '60s rock sound evokes a looseness and an energy that — particularly in the Trump-fueled quagmire of 2017 — sounds more appealing than ever; an escape. It's a music that evokes love, and quite often, celebrates weed.
Yet one of the best of these recent retro releases comes from an unexpected place: the electro-pop artist Toro y Moi, whose new album "Star Stuff"— a collaboration with the SoCal psych-jazz duo the Mattson 2, who also happen to be twin brothers — possesses a warmth and finesse that channels the 1960s in a more profound way than most other music of its styling; it recreates a sentiment as much as a sound.
Ask a fan of Toro y Moi mastermind Chaz Bundick only a couple of years ago, and they'd likely be surprised to imagine him as the torchbearer for the psychedelic rock of the fabled past. Seemingly far more indebted to electronic pioneers like J.Dilla, his work helped spawn the subgenre of electronic "chillwave." Singles like "New Beat" and "Still Sound" featured vocal samples, processed percussion and countless synthesizers that blurred the line between human and artificial.
The current album, however, is something different than either Bundick or the Mattson 2 have produced before. There are elements of the funk that has permeated Bundick's career throughout "Star Stuff," but the overt feeling is one of overwhelming, delightful haziness.
Vocals are kept to a minimum, and the focus is on creating aural spaces that feel akin to getting lost in the desert. Every track feels like a callback to an earlier era; artists like David Axelrod, Can and Pink Floyd: Toro y Moi even played the "Star Stuff" track "JBS" in their recent concert film "Live from Trona" – a direct homage to Pink Floyd's "Live at Pompeii."
In a recent interview with Leafly, Bundick described himself as not smoking a whole lot:
"When I make music, I'll have a joint or something at the end of the day and listen to what I've been working on," he said.
It's hard, however, to miss the mellow, cannabis-infused vibes of "Star Stuff," and even harder to avoid the urge to smoke while listening through the album.
This is hybrid music, through and through. We recommend a strain like the Cookie Fam's Wedding Cake to fully experience the foggy jams of "A Search," the percussive swagger of the title track, bringing to mind the Stones' "Sympathy for the Devil" and the hook-laden "JBS."
"Star Stuff" isn't necessarily the Toro y Moi album that fans anticipated, but even better, it's a surprise. Like the best psychedelic music of the genre's legendary past, it offers an escape; one made even more magical with the help of a toke or two.
TELL US, what's your favorite album to listen to when you use cannabis?