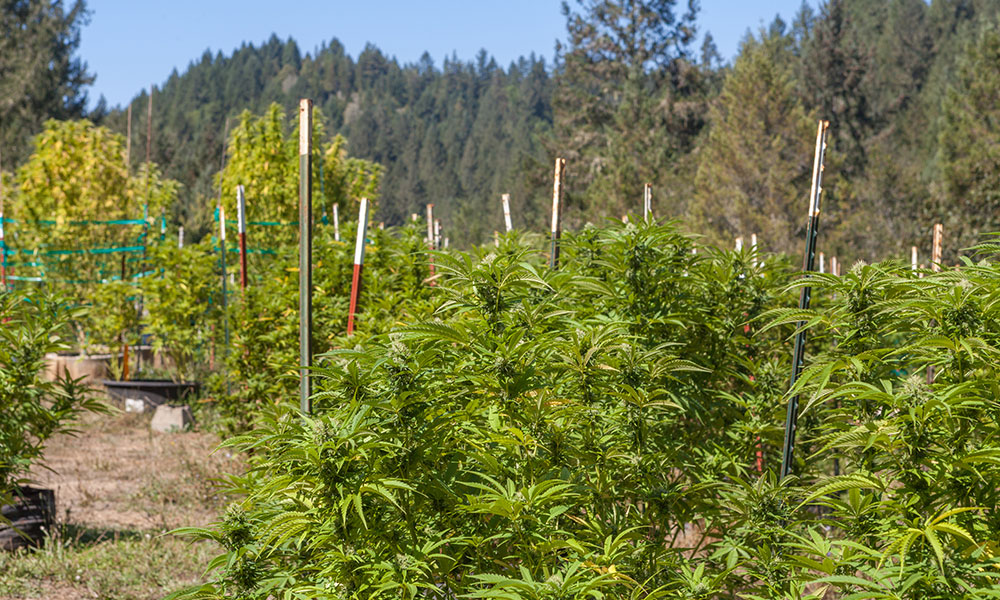 Politics
California to Send National Guard to Raid Pot Farms
Troops will be removed from President Donald Trump's border fiasco to head north and destroy unlicensed marijuana grows.
California Gov. Gavin Newsom announced this week he would be sending the state's National Guard north to assist in the battle against unlicensed growers.
The move comes as Newsom begins his biggest skirmish with the Trump administration yet. On Monday, Newsom announced that he had signed a general order that rescinded his previous authorization for the National Guard to work at the California-Mexico border, a job typically reserved for federal personnel.
Newsom didn't just take California's National Guard from the border, he also said he would redeploy them. The first batch of 110 troops will go to support CalFire's fire prevention efforts, in the hope that stronger efforts to clear brush will mean that there is not a repeat of the last two devastating fire seasons in California. Another 100 troops will conduct counternarcotics search-and-seizure operations in Northern California, targeting traffickers who use legal points of entry to smuggle their wares, as those legal points of entry represent where the bulk of illegal narcotics enter the United States.
But the third mission Newsom said he would send the National Guard on is the one that raised the most eyebrows in cannabis circles.
"Another third will boost the National Guard's statewide Counterdrug Task Force by redeploying up north to go after illegal cannabis farms, many of which are run by cartels," Newsom said in the State of the State address on Feb. 12. He said these illegal cannabis farms "are devastating our pristine forests, and are increasingly becoming fire hazards themselves."
His general order announcement the day before his State of the State address had only alluded to the fact 150 troops would be expanding the California National Guard's statewide Counterdrug Task Force, but during the speech he let us know exactly what they would be up to. Newsom also plans on making the federal government pay for the 150 troops transitioning from the border.
In a letter to U.S. Secretary of Defense Patrick Shanahan, Newsom noted the returns California has seen from the task force with limited federal funding. With only $27 million in funding during 2018, the task force was able to seize $2.2 billion in drugs. Since 2018, the task force has seized 71,488 pounds of marijuana.
During that same period, California's National Guard seized 2,600 pounds of meth, 19 pounds of heroin and 47 pounds of cocaine. You could take everything the troops seized that wasn't weed and fit it into one U-Haul truck for sure, so it's a safe bet that any resources directed towards drug policing will mostly be targeting illegal marijuana.
The murkiest question that remains for California's cannabis industry is what enforcement will look like going forward. The governor claims that the cartels are responsible for unlicensed marijuana production, but one would presume that their bottom line has been decimated just like the mom-and-pop growers of The Emerald Triangle since California's legalization changed the dynamic of the state's market. If the cartels don't think it's worth it anymore, who is left to go after?
The Balancing Act of Cannabis Enforcement

We reached out to the California Cannabis Industry Association to get their take on the new enforcement effort from Sacramento, and the balance between protecting their members' interest and recriminalizing marijuana.
"Enforcement is a very nuanced concept," CCIA Communication and Outreach Director Josh Drayton told Cannabis Now. "In no way shape or form do we want to support any enforcement program that mirrors the failed War on Drugs that targeted and prosecuted black and brown members of our communities… nor do we want to enforce on operators that are trying to come into compliance and are working to have a place in the regulated market. With that being said, we have to address the operators that have no intention of becoming regulated and choose to operate illegally."
Drayton lived in Humboldt for over a decade, and during that time he says he saw the good and the bad of the industry.
On the good side, Drayton cites "mom-and-pop back-to-land growers who respect the treatment of their land," in contrast with the "large scale cultivators that clear cut mountain tops, divert[ing] water from the rivers during droughts and dump[ing] toxins and pesticides in the rivers, killing fish and wildlife."
He also noted as much as the concept of cannabis cartels may seem far-fetched, the state of California has a long history of large-scale cartel grows on public lands and throughout our national forests.
"California has a legacy cannabis industry that goes back decades, and bringing a pre-existing industry into the regulated market will be a long process," said Drayton. "Many cannabis operators continue to face barriers to entry into this regulated market, and we must work with local municipalities to begin regulating operators, incentivizing operators to come above ground, and then equitably enforce upon those that have no intention of doing so."
The folks at NORML also noted just because there is some form of enforcement, that doesn't necessarily mean throwing the progress of legalization in the shredder.
"There is not necessarily an inherent contradiction between supporting legalization, while allowing for some enforcement action against illegal large-scale growing operations, assuming those being targeted are truly tied to cartels or other criminal elements and not just small personal cultivators," NORML Executive Director Erik Altieri told Cannabis Now.
Altieri believes this will probably do little to address the problem.
"California has been exporting marijuana to other states for as long as marijuana consumption has been around in the United States and as long it remains federally prohibited and illegal in many states, the demand for this type of exportation will likely continue," Altieri said. "To truly address the issue of black market cannabis operations, Congress must act to end federal marijuana prohibition once and for all and the remaining states with policies of criminalization must move towards legalization and regulation."
This all follows the news from two weeks ago, when the Bureau of Cannabis Control and the Department of Consumer Affairs' Division of Investigation-Cannabis Enforcement Unit announced enforcement actions on two unlicensed cannabis businesses operating in Sacramento County and Los Angeles. In Sacramento, they seized over $250,000 in products. In Los Angeles, six people were taken into custody.
TELL US, do you think California should crack down on unlicensed cultivators?