The Main Strain: Magnum PI by TreeHawk Farms
This little-known cross of Agent Orange and Blue Hawaiian has blown up in Washington State.
When it comes time for TreeHawk Farms CEO Jason Olsen to determine the strain allotments for his indoor grow space, he always saves plenty of room for Magnum PI. A top seller for his Chimacum, WA-based business, Magnum PI is a citrus-heavy sativa cross of Blue Hawaiian and Agent Orange. According to Olsen, the strain has become quite popular with local consumers looking for a functional, daytime high.
"If I'm going to a [Seattle] Seahawks' game, or if we're going to sit down and have a cup of coffee, I'd be smoking Magnum," Olsen says. "It gives you that 'happy day' feeling, like the sun's out. It's a euphoric, stimulating sativa high, which a lot of people love."
Proof of Magnum PI's popularity in Washington is evidenced by the fact that Olsen and his small staff of ten are constantly seeking to restock supply of the strain to the 30 or so stores within the state that currently carry TreeHawk's products. A holdover from Washington's days as a medical-only market, Magnum PI is believed to have originated with Seahorse Gardens, a breeder near Puget Sound.
For the past five-and-a-half years, however, consumers eager to taste this explosion of orange-centric terpenes and enjoy the ensuing, energizing high, have had only one option: Olsen. In truth, it was his great-grandfather and grandfather who first put his family on their current path when they bought the property that's now TreeHawk Farms back in the 1950s and started a dairy farm. Eventually, diminishing returns and deaths in the family left Olsen, 38, to determine what course to pursue next.
"Small dairies had started to go out of business," Olsen says. "There were eight dairies in this little valley that all shared a milk truck. We were all land-rich and money poor. Once my uncle passed away, and with costs around the business going up, it just didn't seem like it could be profitable going forward, so we closed down."
From Patient to Producer
As a lifelong cannabis consumer, Olsen says he applied for and received a medical card with the state as soon as the opportunity first arose. During his time as a medical patient, Olsen recalls observing the potential for a retail cannabis market and quickly realizing that if he wanted to act, the time was fast approaching. Seeing cannabis as a viable way to reinvent his family's property with a new agricultural slant, Olsen and his wife made the decision to use their life savings to start TreeHawk Farms.
Despite a lengthy application process, battles over water usage and a spate of other bureaucratic hurdles, their efforts would ultimately prove highly successful.
Today, Olsen oversees an indoor production flow that yields about 60 pounds of cannabis each month. In addition to perennial favorite Magnum PI, the farm's also renowned for their Candyland Cookies strain, which combines two classics in the form of Granddaddy Purple and Bay Platinum Cookies. Other notable strains on the TreeHawk menu include Chocolate Thai and The Wills, although Olsen acknowledges that his Magnum PI is likely a cut above the rest.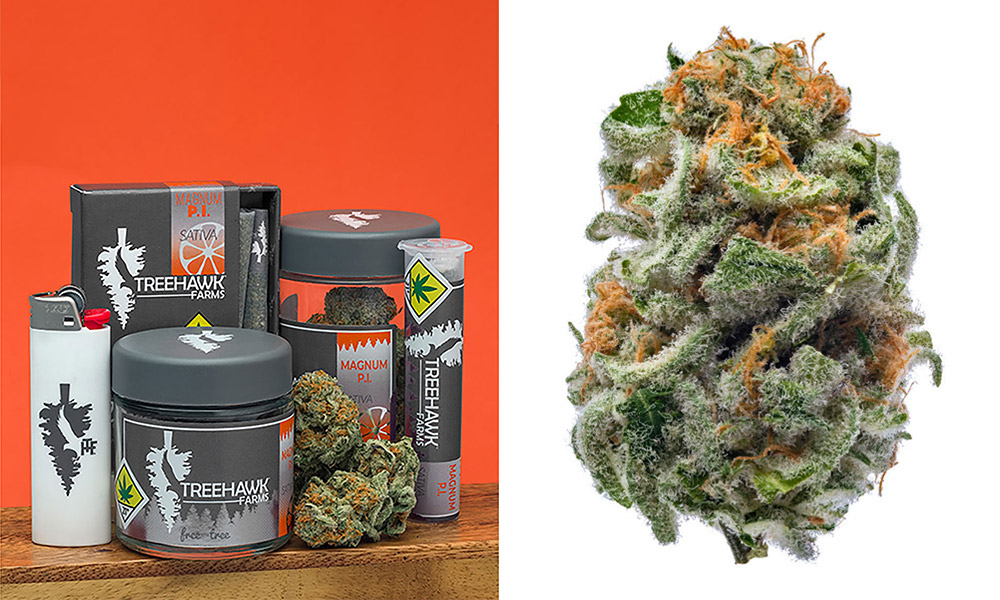 "It has the bag appeal," he says. "It's covered in sugar. It's just a really beautiful plant. It really liked our feeding regimen and everything just fell into place."
Room to Grow
Currently encompassing a trio of 600-square-foot grow rooms, each with 21 lights, TreeHawk Farms will soon expand its operations to include a fourth room, which Olsen confirms will include a whole row of what amounts to a third of the room's potential production—to growing Magnum. The reasoning is simple: people just can't get enough of it.
"A lot of people get strain-tired," Olsen says. "With Candyland, I'm probably going to back off on that a little bit because people just want something different after a while. I haven't had to do that at all with Magnum. I sell out, so I have to divvy up our harvest to spread it out to our stores as best we can, but everyone will take twice as much Magnum as any other strain, without blinking. The demand is still there."
What is it about this tropically flavored, funk-forward blast of cerebral stimulation that makes it such a mainstay for Washington State cannabis regulars? Perhaps it's the cut, maybe it's the care that goes into cultivating it but most likely it's a potent combination of both. After all, beyond the caché that comes with growing rarer, more exotic strains, there's a family legacy inherent to TreeHawk Farms that clearly informs not only its craft approach but the quality of the finished product.
And for now, Olsen is proud to say that the reputation of Magnum PI can be directly traced to his efforts to bring his family's farm back to life under the auspices of his new cannabis enterprise and its star strain.
"Honestly, there's no one else that has this particular strain," Olsen says. "So, if you've smoked Magnum PI in the last five years, you got it through TreeHawk Farms."
Strain: According to Olson, the name is a play on the strain's lineage: Blue Hawaiian x Agent Orange. It reminded him of a Hawaiian private investigator, like Tom Selleck from the TV show Magnum P.I.
Breeder: Seahorse Gardens in Seattle, Washington.
Type: Sativa Hybrid.
Genetics: Blue Hawaiian x Agent Orange.
Taste: A citrusy orange-lemon flavor with a little tropical earthy funk on the back end.
Flowering:  9-10 weeks.
This story was originally published in the print edition of Cannabis Now.