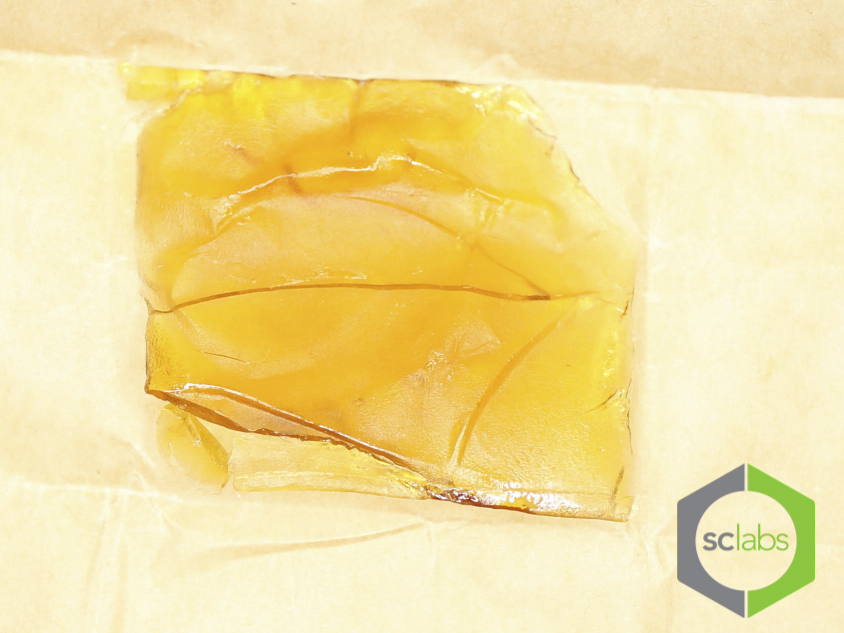 For a well-established company with distribution throughout the San Francisco Bay Area, Top Tier Extractions has a relatively low public profile. They aren't especially prolific on Instagram, that whirring axis of the dab scene, and they aren't regulars at the big expos and trade shows.
That incognito vibe extends to their packaging — no flashy, metallic accents or cool cartoon characters, not even any color. Just a black paper envelope emblazoned with white lettering and a grey octagon containing the image of simple, white capital T reflected in a stylized greyscale pool.
But open up any one of those little, black envelopes and the entire low-key facade dissolves in a delicious instant. Their branding may be flying under the radar right now, but Top Tier's shatter loudly declares its quality from the moment you unwrap it, and their take on the popular Gorilla Glue #4 is no exception.
The yellow gold color is practically luminescent. Some extractors just have the Midas touch when it comes to color and Top Tier is on that list. The clarity is nearly crystal clear, giving a large dab the breathtaking appearance of a canary diamond shard.
The clean-snap, soft glass stability makes this GG#4 shatter manageable enough to dab easily without tools but, with a bit of hand heat, malleable enough to use with any delivery system you'd like. But to really open up the one of a kind terp profile of this shatter, you'll want to whip out your dab rig.
The flavor profiles of most concentrates fall into two basic camps. You have the faithful but concentrated version of the source strain's flavor — you start with OG flowers, and the end result tastes like the same OG, just run through a Marshall stack amplifier for terps.
The other camp is the single terp focus concentrates, where you start with OG flowers but the pine or the gas notes get elevated in the mix over everything else, giving the concentrate a flavor that's from the source strain, but not just a rehashing of it, if you'll forgive the unintentional pun.
Then there's the one in million, "Planet X" flavor profiles, which is what you've got with the GG#4. The terms are aggressively sharp and herby. The sharp pungency is almost reminiscent of a white sage with subtle notes of lemongrass. The pungency invokes more familiar flavors, like skunk, citrus, pine and mint, but none of those feature in the complex, mysterious flavor of this shatter.
Taking a large dab sent me soaring into a haze of deep peace and tranquility almost instantly. The powerful potency of the Gorilla Glue will hit you like King Kong, with 82 percent THC in every flavor-packed dab, but the effects are mellow and relaxing. This stuff will put you "in the zone," but it will also make you prone to distraction and flights of fancy, so it isn't necessarily the best choice for work or daytime medication.
But if you're looking for an unparalleled product at half the price of comparable brands, the Gorilla Glue #4 shatter from Top Tier Extractions is a true expression of their slogan "the perfect balance of science and art" and will definitely be a welcome addition to your head stash.
TELL US, what are you smoking?